Woman sues Delta for $10 million after drunk man allegedly gropes and masturbates at her in flight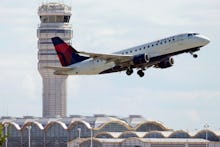 Because apparently no airline is safe anymore, Delta has been hit with a lawsuit for allegedly allowing a drunken passenger to grope and masturbate at a woman unchecked.
As MLive reported, Rhonda Costigan of Garden City, Michigan, alleges that an intoxicated man named Christopher Finkley was allowed to "freely roam the plane" and expose himself during a Delta flight from Myrtle Beach, South Carolina, to Detroit in July 2016. Costigan is now suing the airline for $10 million, saying Finkley stationed himself in the seat next to hers and began harassing her, rubbing her thighs and trying to stick his hand up her shorts while she asked him to stop. Allegedly, flight attendants did nothing.
"I was trapped and unable to flee," Costigan told reporters at a press conference on Tuesday, according to MLive. "And with my daughter and her friends in the row behind me, I was frozen in terror."
According to MLive, Finkley only returned to his seat once the crew began landing preparations. From there, he continued to masturbate, according to the Wayne County Circuit Court filing. Upon his subsequent arrest, Finkley explained his in-flight faux pas by saying "the zipper of his shorts must have come down." He had to adjust his story after learning from law enforcement that his fellow passengers had seen him openly stroking his penis. He told FBI agents that sitting with his hands in his pants and covertly touching himself was his "happy place," according to CBS.
The FBI does not maintain records of sexual assault on airplanes in its Uniform Crime Report, but abundant anecdotal evidence suggests it's far from a rarity. In 2015, a man from Staten Island allegedly slathered his seat mate — a 25-year-old woman from New Jersey, who had taken Xanax and drifted off to sleep — in lotion on a flight from Dubai to New York City. She awoke to find her underwear pushed to the side and her vagina sore. Her breasts and leg were covered in lotion. In 2014, a Catholic priest was accused of groping his female neighbor on a flight from Philadelphia to Los Angeles. Indeed, even our president has allegedly forced himself on a woman passenger in flight.
Sexual misconduct in airplanes seems to happen all the time, and as Slate reported, airlines are often poorly prepared to handle it. According to Costigan, flight attendants knew Finkley was being sexually inappropriate, but declined to do much about it.
Finkley received a fine and a weeklong prison sentence in March, as punishment for indecent exposure and simple assault, MLive reported. Delta, meanwhile, offered Costigan $2,500 in travel vouchers, according to CBS. In an emailed statement, a Delta spokesperson declined to comment on "pending litigation," but said that the airline is "dismayed by what this customer describes in the suit."
"The safety and security of our customers and employees is always Delta's top priority," the statement read.