Want a big raise? This move might be your best path to a promotion or pay bump.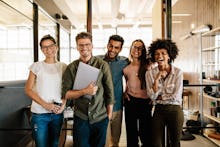 Want a raise? You could try your luck in convincing your boss you deserve one. Or you could leave your current workplace entirely — for a younger, smaller firm. That is the conclusion of a new study of which firms do the most job poaching and which turn out to have the best opportunities for workers.
The study's authors — led by John Haltiwanger, an economist at the University of Maryland — found that, on average, newer firms with fewer employees tend to do the most poaching, and that workers are more likely to receive increased pay by jumping to such a firm.
"Small, young firms are a net attractor of workers making job-to-job moves," the authors wrote. Not surprisingly, they also found "strong evidence of a firm wage ladder" — meaning workers are more likely to move from low-wage to high-wage jobs when they do hop.
Perhaps surprisingly, the research found job hoppers are less likely to move from smaller firms to larger ones. In a comparison of net poaching by firm size and firm age, small and young firms came out on top, gaining 0.5% employees on average per quarter. Meanwhile, mature firms, both large and small, lose 0.25% on average per quarter.
Rethink your next job move
If there's any lesson from this study, it is not to hold out for a mega-corporation to come knocking on your door — and not to turn down the chance if a newer firm or startup does, because odds are they'll pay you more.
Those who are poached can expect earnings gains of about 1% per quarter, the authors wrote. And even in lateral moves to similar job positions, you are still likely to see some slight earnings gains, the study found.
So where can you find these young, small companies? It's somewhat tricky to search for them using popular job sites like LinkedIn or Indeed. But tech-job search site AngelList has a function where you can sort by company size, with seven levels of sizes available to search in all — starting with businesses that are just one employee. And you can always mine other industry-specific sites listing job openings tailored to that sector, like Mediabistro for journalists or Lawjobs for lawyers, and just zoom in on newer, smaller firms that are hiring.
Timing is crucial
If you're going to make a move, don't wait until economy turns sour; seize the moment. The authors' findings determined that during recessions, opportunities to move to higher-paying jobs may evaporate. For example: They found that during the Great Recession, movement out of the bottom rung of the wage ladder fell 85% — causing earnings growth to decline 40%.
These findings seem especially relevant now, given that current economic forecasts suggest any pay raises you've been getting may be as good as they're going to get, per the Wall Street Journal's Greg Ip. "Minimal corporate pricing power, lackluster productivity growth and an aging workforce have all undercut employers' ability to pay better," Ip wrote.
Ready to make a move? Here are five smart actions to take if you are quitting a job — so you leave on a good note, and boost your career and network.
Sign up for The Payoff — your weekly crash course on how to live your best financial life. Additionally, for all your burning money questions, check out Mic's credit, savings, career, investing and health care hubs for more information — that pays off.