'Spider-Man' PS4 Gameplay: Peter Parker can't actually kill his enemies in Insomniac's new game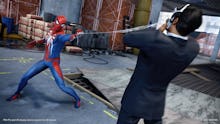 One of the coolest games shown at E3 2017 is the PS4 exclusive Spider-Man, Insomniac Games' upcoming open-world webslinger simulator that's not tied to any movies or comics. The game looks stylish and action-packed, but one thing about it stands out in particular.
You can't kill enemies in Spider-Man for PS4
Kotaku's Nathan Grayson interviewed creative director Bryan Intihar at E3 and the most interesting tidbit concerns the act of dispatching Spider-Man's many foes. In the gameplay demo above, you'll notice a couple of times when Spider-Man actually saves enemies from falling off of buildings or dying in other ways. Intihar said you actually can't kill enemies in the game at all.
The game apparently has special animations for situations when your actions might cause the death of an enemy, where Spider-Man will step in and save them while making sure they're incapacitated. Since we already have so many video games about killing people, that's a nice touch. It fits his friendly neighborhood Spider-Man character, as well.
More news from Sony PlayStation E3 2017
Check out more of our coverage from the PlayStation E3 2017 press conference, including the sweeping new Shadow of the Colossus remake, gameplay for Days Gone and a look at Monster Hunter Worlds. Don't miss the breathtaking cinematics from God of War 4 and Detroit.