James T. Hodgkinson: Alleged Virginia shooter accused of domestic violence in 2006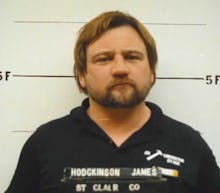 James T. Hodgkinson, the 66-year-old who died in custody after opening fire on Republican lawmakers Wednesday as they practiced for the Congressional Baseball Game — was arrested in 2006 for domestic violence, the Belleville News-Democrat reported.
On April 1, 2006, Hodgkinson allegedly attempted to get his teenage foster daughter to come home by grabbing her by the hair and yanking her down to the floor.
She and a friend attempted to flee by car, but Hodgkinson allegedly "opened the door, cut the ignition and used a pocketknife to cut the seatbelt," according to the News-Democrat. When his daughter's friend threatened to call the police, he "punched her in the face."
He then pointed a shotgun at the friend's boyfriend and fired apparent warning shots. The friend's boyfriend told the Daily Beast that he hit her boyfriend "with the butt of the gun."
His domestic violence charges were dismissed, according to court records cited by the Daily Beast, but the friend said that Hodgkinson's foster daughter told her "a lot of stories that he was really awful to her" and that she said Hodgkinson was "always angry."
"It sounds really awful, but I'm not surprised," the friend told the Daily Beast about the Alexandria shooting Wednesday. "Every interaction I've had I've thought, 'that guy's crazy.'"
The alleged domestic violence incident is part of an emerging picture of the Belleville, Illinois, man said to have critically wounded Rep. Steve Scalise (R-La.) and injured several others at a baseball field in Alexandria, Virginia.
According to the News-Democrat, Hodgkinson was born in 1951, grew up in Belleville and studied at Belleville Area College and Southern Illinois University Edwardsville but did not complete a degree. He ran a construction company, which he turned into a home inspection company in the 1990s.
In 1996, the News-Democrat reported, a different foster daughter died by suicide at age 17. Hodgkinson and his wife also assumed legal guardianship of their 12-year-old great niece in 2002, but she was returned to state custody on July 7, 2006 — three months after the alleged domestic violence incident — for reasons that were not explained in court documents.
He had apparently been living in Alexandria for the past few months and reportedly told his wife he would soon be coming home because he "missed her and their dogs."
Hodgkinson was described by a neighbor as "pretty hardcore" Democrat who repeatedly expressed anti-Republican sentiments. He had several run-ins with police, including an incident in March in which St. Clair County Sheriff's police responded to complaints that he was firing a gun in the woods near his home.
He was found to have a valid Illinois firearms license, the News-Democrat reports. Police told him not to shoot there in the woods anymore.