Layoffs hit HuffPost newsroom, 39 staffers lose jobs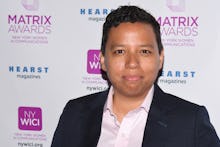 HuffPost staffers are reeling after dozens of layoffs affected staffers, mainly reporters, throughout the company.
Among those who have been laid off included senior military correspondent David Wood, senior entertainment editor Stephanie Marcus, political reporter Jason Linkins, senior congressional reporter Michael McAuliff, congressional reporter Laura Barrón-López, White House reporter Christina Wilkie and associate polling editor Grace Sparks. Wood won a Pulitzer Prize in 2012 for his reporting, and Linkins was behind HuffPost's politics and media blog "Eat the Press."
In total, 39 staffers were affected, according to a statement from the Writers Guild of America, East, to HuffPost media reporter Michael Calderone.
The layoffs came the same week that Verizon, HuffPost's parent company, closed a deal to acquire Yahoo. More than 2,000 employees at both Yahoo and AOL, which is also owned by Verizon, are expected to be laid off as a result. BuzzFeed first reported that layoffs at HuffPost were expected Wednesday.
HuffPost employees knew the layoffs were set to occur, but it wasn't clear who would be affected before Wednesday. Two people familiar with the matter, who spoke to Mic on the condition that their names not be used, said that the people who were laid off Wednesday and the number of reporters who were laid off took them by surprise.
The layoffs have left staffers uncertain and confused about the future of the site and the reasons behind the layoffs, the people said. Remaining staffers rallied around those who announced their departures on social media, imploring other news outlets to hire the employees and singing their praises.
The layoffs come only a few months into the tenure of Lydia Polgreen, the former New York Times editor who took the helm of HuffPost (when it was still known as the Huffington Post). Polgreen, who steered the company through a company rebrand and recently made a series of high-profile hires, visited Washington earlier Wednesday to address employees about the layoffs.
Polgreen is set to address employees Wednesday evening.