Democratic and Republican baseball teams to have dinner in sign of unity after shooting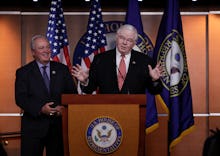 The Democratic and Republican congressional baseball teams will come together to have dinner together Wednesday night at the Democratic Club in Washington, D.C. — an effort to show unity after a shooting at the GOP team's baseball practice earlier in the day that left one senior member of Congress in critical condition.
Reps. Joe Barton (R-Texas) and Mike Doyle (D-Pa.) — managers of the Republican and Democratic teams for the Congressional Baseball Game — announced the dinner at a joint news conference Wednesday afternoon on Capitol Hill, where they vowed that the game would go on Thursday night as planned.
Barton said the members will play "not as Republicans and Democrats but as United States representatives," while Doyle vowed that members were not going to let the shooting "change our way of life."
Aside from talking about the game, both Doyle and Barton looked inward at the ratcheted-up partisan language that's paralyzed Capitol Hill for years, and said the incident should make legislators rethink the kind of vitriol that's been thrown around in politics.
"It shouldn't take an incident like this to bring us together," Doyle said, adding that he and Barton agreed that they can "still maintain our principles and our legislative agendas" while speaking "in a more civil way."
"When the leadership of this country is civil toward one another, maybe the public will start being civil toward one another, too," Doyle said.
Barton also spoke about the way the public views members of Congress, lamenting that "members are not looked as people anymore" and expressing hope that that view could change.
And even amid a serious news conference on a serious incident, both men took the time to crack jokes and lighten the mood.
Barton joked that he was going to "order the most expensive steak on the menu" at the dinner.
Doyle replied with a self-deprecating joke.
"We're Democrats," Doyle said. "We don't have steak."