Nintendo E3 2017 New Amiibo: 'Metroid' amiibo, 'Super Mario Odyssey' amiibo, Urbosa amiibo and more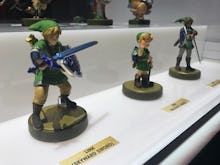 Nintendo took the stage at E3 2017 to announce more amiibo for you to empty your wallet on. News of Super Mario Odyssey, Breath of the Wild DLC and new third-party games like Rocket League just weren't enough for the Japanese gaming company. Along with more releases for the Switch and 3DS, here are the NFC-equipped figurines players can expect to buy, from new Zelda amiibo to Metroid amiibo.
Legend of Zelda: Breath of the Wild amiibo: Urbosa, Daruk, Mipha and more
As we saw during the April Nintendo Direct, three Link amiibo are coming June 23. Link in his Skyward Sword outfit, Twilight Princess outfit and Majora's Mask outfit can soon be used with Breath of the Wild.
Also newly announced are the various champions of Zelda: Breath of the Wild. Urbosa, Mipha, Daruk and Revali will be offered as amiibo. Though it remains to be seen what items or modes the four characters will unlock.
Super Mario Odyssey amiibo: Koopa Troopa and more
The Super Mario Odyssey amiibo show Mario, Peach and Bowser in their wedding attire, similar to what we see in the trailer. Along with the main characters, we see some main enemies receive amiibo as well. Koopas and Goombas will be represented in the amiibo lineup alongside Mario, Peach and Bowser.
Metroid amiibo
With the two new Metroid games coming to Nintendo Switch and 3DS, respectively, comes two new amiibo. Samus Aran and an actual metroid will see their own amiibo. The amiibo will be compatible with the new game.
Splatoon 2 amiibo
The second iteration of Splatoon will see new toys to go along with it. Inkling boy and girl will be among the amiibo releases.
Fire Emblem amiibo for Chrom and Tiki — plus a new Pikmin amiibo
A Pikmin amiibo will join the release list in addition to Chrom and Tiki. But they aren't the only Fire Emblem characters making a cameo on the amiibo shelf.
Super Smash Bros. amiibo: Cloud and Bayonetta
Just because Nintendo didn't announce anything new for Smash Bros. at E3 doesn't mean it's abandoning the game. Amiibo for Cloud and Bayonetta are finally on the way along with their costume swaps. For Fire Emblem the characters Corrin (male and female) will get an amiibo as well.
Check out more Nintendo E3 2017 news
Check out even more news from Nintendo's big E3 2017 presentation, including an exciting look at Super Mario Odyssey, new details about the Zelda: Breath of the Wild DLC and confirmation that Rocket League is coming to the Switch. Plus the latest on new Metroid and Kirby games on the way.