Steve Scalise remains in critical condition, Trump asks Americans to "pray for Steve"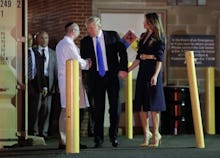 House Majority Whip Steve Scalise, one of the five people shot by a gunman who attacked a Congressional Baseball Game practice session on Wednesday morning, remains in critical condition after sustaining a single gunshot wound and will still require additional operations, MedStar Washington Hospital Center said in a statement Wednesday evening.
"Congressman Steve Scalise sustained a single rifle shot to the left hip," the statement read. "The bullet traveled across his pelvis, fracturing bones, injuring internal organs, and causing severe bleeding."
"He was transported in shock to MedStar Washington Hospital Center, a Level I Trauma Center," it continued. "He underwent immediate surgery, and an additional procedure to stop bleeding. He has received multiple units of blood transfusion. His condition is critical, and he will require additional operations. We will provide periodic updates."
President Donald Trump was spotted arriving at the hospital Wednesday evening to visit Scalise along with first lady Melania Trump, according to a press pool report. In a tweet, the president acknowledged Scalise "is in very tough shape — but he is a real fighter. Pray for Steve!"
Matt Mika, a former GOP staffer turned lobbyist, is "out of surgery and is currently in critical condition," CNN's Phil Mattingly tweeted late Wednesday afternoon.