'Pokkén Tournament DX' Controller: Multiplayer is much better without the dumb Wii U GamePad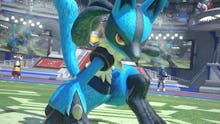 The Pokkén Tournament DX release date is set for Sept. 22, but many have already played the game. The Pokémon version of Tekken initially appeared on the Wii U after premiering as an arcade game. Now the game is coming to the Nintendo Switch and it's notably better — not only because Pokkén is now portable, but because local multiplayer is significantly improved.
Pokkén Tournament DX doesn't require you to use the big, annoying Wii U GamePad.
Previously in Pokkén, players could only engage in couch multiplayer with the help of the Wii U GamePad. While one player looked at the television screen the other had to focus on the GamePad's built-in display. Pokkén didn't let two players fight each other any other way.
Not anymore.
Now, when playing local multiplayer, all players get to play on the big screen. Additionally, players get their choice of play method between Joy-Con or Pro Controller. The Switch still won't support any older controllers though.
The new multiplayer layout, combined with Pokkén Tournament DX's additional characters like Scizor and Croagunk and Decidueye and the Switch's portability, make this — objectively — the best Pokkén yet.
Now if only Nintendo would stop giving us Pokémon and Arms and release the fighting game we all really want for the Switch.
Check out more Nintendo news and coverage from E3 2017
Check out even more news from Nintendo's big E3 2017 presentation, including an exciting look at Super Mario Odyssey, new details about the Zelda: Breath of the Wild DLC and confirmation that Rocket League is coming to the Switch. Plus the latest on new Metroid and Kirby games on the way.