Donald Trump calls federal probe into whether he obstructed justice "phony"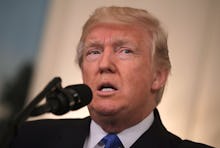 President Donald Trump responded publicly Thursday morning to the report that he's now personally under federal investigation for possibly obstructing justice, calling the entire special counsel probe "phony."
"They made up a phony collusion with the Russians story, found zero proof, so now they go for obstruction of justice on the phony story," Trump tweeted. "Nice."
The president's claim, however, that the FBI found no proof of collusion is unverified. That investigation is still ongoing with special counsel Robert Mueller.
And, according to the Washington Post's report, the obstruction of justice probe into Trump was self-inflicted, beginning only after Trump fired then-FBI Director James Comey.
Mueller will interview Director of National Intelligence Daniel Coats, National Security Agency chief Mike Rogers and Rogers' former deputy Richard Ledgett in the obstruction probe.
Trump reportedly asked both Coats and Rogers to publicly say there was no evidence of collusion, while Ledgett wrote a memo detailing the conversation Trump had with Rogers.