Dolce & Gabbana is selling a $245 T-shirt mocking folks boycotting the brand for dressing the Trumps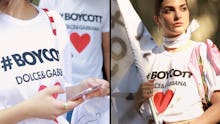 While countless brands have tried to distance themselves from the Trump family, with many designer explicitly vowing to never dress Melania Trump, one brand has done the exact opposite.
Thus far, Trump has worn more Dolce & Gabbana pieces than any other brand. Not only are the designers relishing in it, they're now trying to capitalize on the rage they've created among their fans, many of whom are miffed at them for dressing and even creating custom pieces for Trump at all.
Late last week, the brand launched #BoycottDolce&Gabbana T-shirts, it appears as a way to say, "We know you're mad we're dressing the Trumps, and we don't care."
They go for $245.
The hashtag itself comes directly from D&G's months-long war against the people who oppose them dressing the first lady.
On designer Stefano Gabbana's Instagram, he's posted about every time Trump has worn one of their pieces, like the multicolored floral coat she wore in Italy, and the black lace dress she wore to the Vatican.
And on a number of these posts, he's hashtagged it #BoycottDolce&Gabbana, in mockery of the people who have commented on the posts announcing that they're gonna do just that.
Now, this whole boycott campaign may strike you as familiar, because Beyoncé had a very similar idea after some law enforcement organizations called for people to boycott the singer after being offended by her political Super Bowl performance and "Formation" video in 2016.
This caused her to launch her own Boycott Beyoncé T-shirts, a gesture of self-awareness and humor.
So, you know, maybe D&G could have been more original with this one.
The big difference between the two? How far D&G is willing to take the joke. The brand didn't stop at just a T-shirt, instead also creating a promotion video that's ruffling feathers as well.
The ad itself is a mock protest with a number of pretty people and the designers themselves wearing the T-shirts, holding signs and screaming "Boycott" over and over and over again.
As many outlets have already pointed out, it looks like it's been ripped straight from Kendall Jenner's ill-advised Pepsi ad.
At this point, you may be wondering why a brand would go so far out of its way to court controversy. To give you a bit of background, D&G has a long, long history of inciting outrage. In 2015, the designers — Gabbana along with Domenico Dolce — willfully announced that they oppose gay adoption. In 2016, they were slammed for ads that featured stereotypical Asian tourists in Italy and then a few months later, they sold what they called "slave sandals" for $2,395.
One question that remains is what is the message of the person who would buy this T-shirt? By buying it, are they supportive of a brand who unabashedly and proudly dresses this first lady? By buying it, are they trying to defend D&G's actions? Or by buying it, are they saying that they are a person who is happy to be duped into paying $245 for a white cotton T-shirt?
We're wondering.