NBC postpones 'The Carmichael Show' mass shooting episode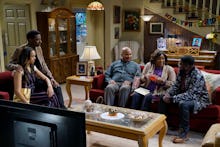 The Carmichael Show grappled with sexual consent on the season three premiere in June, but the show's take on another major social issue — mass shootings — was too close to reality to broadcast Wednesday.
NBC postponed airing the Carmichael Show episode "Shoot Up-Able," after the news of a mass shooting during a practice for the Congressional Baseball Game Wednesday morning. Five people were shot in the attack, including House Majority Whip Steve Scalise. The gunman was killed by police.
The network instead aired another episode, "Lesbian Wedding," which was originally scheduled to run on Wednesday, June 28.
The pulled episode reportedly centered around Jerrod, who was at the mall when a mass shooting took place, killing three people, TV Guide reports. Throughout the episode, his family reacts to how close Jerrod was to the deadly attack. They also discuss the politics of gun control.
Although this episode of The Carmichael Show has been postponed, the Congressional Baseball Game will still be held Thursday at Nationals Park in Washington, D.C.
Mic has ongoing arts coverage. Please follow our main arts hub here.