4 questions we're asking in the wake of the Alexandria baseball shooting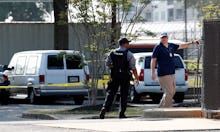 Broadcasting live from the baseball field where Rep. Steve Scalise (R-La.) and four others were shot Wednesday, Sean Hannity ripped into what he called "left-wing hate" that has spread across the U.S. "When Democrats continue to dehumanize Republicans ... the climate around the country, it becomes more than toxic," the Fox News host said.
Hannity's was not the only partisan take on the shooting. Left-wing activists criticized President Donald Trump and Republicans on Twitter. "Trump suggested his supporters should shoot Hillary. ... This MUST stop," one tweeted. Former House Speaker Newt Gingrich blamed "hostility on the left" for inciting the shooting. (The shooter was an anti-Trump, former Sen. Bernie Sanders volunteer from Illinois.) Mic has a recap of the left- and right-wing vitriol that surfaced after the shooting. In the same vein, BuzzFeed showed how Twitter spread misinformation as a partisan echo chamber.
On Capitol Hill, House leaders Paul Ryan and Nancy Pelosi called for unity and a toning down of the partisan attacks. "Everybody is reflecting on what we all say," Ohio Democratic Rep. Tim Ryan told Mic. Whether Wednesday's feeling of bipartisanship will continue into a renewed debate on, say, health care is anyone's guess.
Scalise, the number three House Republican, remains in critical condition. Trump and first lady Melania Trump visited Scalise at the Washington, D.C., hospital where he is being treated. Trump asked people to "pray for Steve" on Twitter. The congressional baseball game, a last vestige of bipartisanship in Washington, is still on for Thursday.
Questions we're asking on Thursday morning:
• Will the narrative of Sean Hannity or Paul Ryan win out?
• How long will Wednesday's promises of bipartisanship last?
• Will Trump, the most high-profile rhetorical bomb thrower, change his tone?
• Will the shooting yield a breakthrough on health care?
This is Mic's daily read on Donald Trump's America. Welcome to the political newsletter that hopes you're reflecting, as politicians are, the day after a member of Congress was shot.  
Want to receive this as a daily email in your inbox? Subscribe here.
We're seeking your support to expand our coverage of Donald Trump. As little as a $1 a month will give you access to an exclusive group to interact with Mic journalists and grow our reporting. Learn more here.
What we're watching
Today: What's next for Washington after the Alexandria shooting?
More: The president is under criminal investigation.
Even more: The Senate passed a bill increasing sanctions on Russia.
Trump's agenda today: Meets with governors and the "workforce of tomorrow" roundtable. Attends investiture ceremony for Supreme Court Associate Justice Neil Gorsuch.
Is partisanship at fault? The House and Senate weigh in.
House members of both parties told Mic a charged political environment could be at fault for what happened on Wednesday. Senators of both parties struck a different tone from their House colleagues.
"Nothing," said Sen. Tom Carper (D-Del.) when asked whether heated rhetoric between Republicans and Democrats had anything to do with the shooting. "Baseball is something that unites us, not divides us." Sen. Tim Kaine (D-Va.) said highly visible partisan policy battles could not be linked to the shooting: "To connect it to the health care debate, or whatever, that's ridiculous."
"It's very dangerous, in diverse societies, to separate people," said Sen. Dianne Feinstein (D-Calif.) of today's political rhetoric. Feinstein became mayor of San Francisco in 1978 after the city's mayor was assassinated, along with the state's first openly gay elected official. Sen. John McCain (R-Ariz.) said the shooting made him reflect on how the two parties interact: "There's a polarization of opinion in America."
More Mic coverage of the shooting
The shooting didn't deter protesters from turning out on the president's birthday.
The shooter's domestic violence history could have predicted attack.
Rs and Ds had dinner Wednesday to show unity.
What we know about the shooter
Watch the shooter talk on camera at a 2011 Occupy Wall Street event.
Following the shooting, Democrats in Congress received death threats.
The shooter wrote anti-GOP letters to his local Illinois newspaper.
A Trump resistance group put out a call to support Scalise.
Former Congressperson Gabby Giffords shared a powerful statement.
Obstruction of justice investigation
The president is under investigation by special counsel Robert Mueller for obstruction of justice. Read the latest from Mic. Trump called the obstruction claim "phony."
Sens. Richard Burr (R-N.C.) and Mark Warner (D-Va.), chair and ranking member, respectively, of the Senate Intelligence Committee, met with Mueller on Wednesday. Burr told reporters the meeting was "constructive" and he got "clarity" on whether former FBI Director James Comey's memos would be released.
Senate passes sanctions on Russia.
The Senate passed a bill that limits Trump's ability to lift sanctions on Russia. The 92-7 passage of sanctions also baked in stronger sanctions against Russian President Vladimir Putin and his associates.
News and insight you cannot miss:
• Trump is effectively forcing the Supreme Court to take up his travel ban case.
• U.N. says U.S.-led bombing in Syria killed 300 civilians in March.
• Two people have been arrested in connection with the violence outside the Turkish embassy in May.
• Four Muslim schoolchildren explain what it's like to be Muslim in America.