Bitcoin and Ethereum dropping: Here's why cryptocurrency prices are crashing right now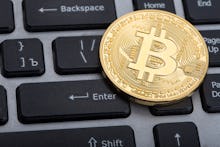 It's been a chaotic week for cryptocurrency traders: Prices for most of the hundred largest digital currencies, including bitcoin, fell precipitously on Thursday morning, many by 10% or more. As of 12:00 p.m. EDT, bitcoin prices had fallen more than 12% to $2,277, and prices for Ethereum-traded ether had fallen more than 14% to $318, in the previous 24 hours, per Coin Market Cap.
Of course, these types of wild swings are not unusual for cryptocurrencies. Indeed, many in the industry are treating the dips as a healthy "correction" — which is when a price dip is welcomed because it brings the asset more in line with its perceived fair value. Sheba Jafari, head of technical strategy at Goldman Sachs echoed that sentiment in a note to clients reported by Business Insider that bitcoin prices were "heavy," meaning high.
"I'm happy that the price is being corrected to something more realistic," Daniel Vaughn, a programmer who builds products on the Ethereum platform, told Mic. "This sort of wildly speculative investment is bad for the technology since it's still in its infancy."
Other cryptocurrency proponents echoed the sentiment that the falling prices weren't necessarily a bad thing. Nicholas Bratskeir, CEO of Minery, which deals in blockchain processing power, said that a lot of the correction was due to so-called sell walls: "[Investors] have their accounts automatically set up to sell when it hits a certain price, and it takes the money out of this infrastructure."
Because of these so-called sell walls, Bratskeir said you can expect these sorts of dips whenever prices rise more quickly then expected, as ether prices did Monday, and it doesn't necessarily bode poorly for cryptocurrency at large. But he also said there are likely other pressures on cryptocurrency prices at the moment, including media reports about a series of hacks that included two of the major exchanges.
"One of the big drivers in blockchain is trust," Bratskeir said. "When stories like this come out, it's bad for trust."
There's more than bad press at play, however. Cryptocurrency proponents are also worried about a bipartisan bill being introduced in the Senate by Iowa Sen. Chuck Grassley and California Sen. Diane Feinstein called the Combating Money Laundering, Terrorist Financing and Counterfeiting Act." Bitcoin.com called the bill a "pit bull assault on bitcoin freedom," because it would treat digital exchanges more like banks, subject to greater reporting requirements. The bill was introduced on May 25, but has not advanced to a vote.
"We're gonna see a lot of roller-coastering until Aug. 1," Phillip Alexeev, a cryptocurrency investor and head of growth at Sketchfab, told Mic.
Why Aug. 1? That's the deadline that's been set by a group of bitcoin traders to implement something called Segregated Witness, a "protocol upgrade" that would keep the currency more decentralized. Business Insider described the issue as bitcoin's "civil war."
Finally, there's the matter of the greater economy at large: Prices for lots of assets, including stocks, fell Thursday morning after the Federal Reserve raised interest rates on Wednesday, something that made investors of all stripes a little more cautious.
Still confused about how cryptocurrencies work? Here's Mic's explainer on what you need to know.
June 15, 2017, 12:00 p.m. E.S.T.: This story has been updated.
Sign up for The Payoff— your weekly crash course on how to live your best financial life. Additionally, for all your burning money questions, check out Mic's credit, savings, career, investing and health care hubs for more information — that pays off.