'Overwatch' Open Division: Everything we know about the new esports tournament and its biggest issue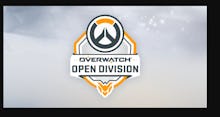 Overwatch's esports scene is dramatically growing. As of right now, we'll see two Blizzard sponsored tournaments being organized at the same time and will actually be played right after each other.
The first is Overwatch Contenders — a tournament where anybody can register and potentially take home a chunk of the $50,000 prize money. The second was just announced and is called the Overwatch Open Division.
Overwatch Open Division: Everything you need to know
Overwatch Open Division seems to operate incredibly similarly to Contenders, though it's managed through ESL Gaming — a popular esports network and content site.
Unfortunately, it also means that they will share a lot of the same issues. The biggest issue is big corporate-sponsored teams will be competing against casual, recently formed teams.
If you're interested in competing, you'll need to achieve Master rank or higher — a skill rating of at least 3,500 — in the most recent season. You can join either as a team or as a single player who will be assigned to a team. The deadline is June 21.
For more specific details, visit the Open Division website, where you can see everything broken down by region.
More Overwatch news and updates
For more on Overwatch, check out the rest of what Mic has to offer. Here is an essay about how Efi Oladele was a missed opportunity for Overwatch, a deep dive into the issue of sexual harassment in Overwatch voice chat, an unintentionally hilarious infographic showing the most popular Overwatch characters in each state, a criticism of Blizzard's failures in its design of Symmetra and a dive into a cool trend on Tumblr that converts your most-played heroes into a psychedelic illustration.