Grenfell Tower Fire: Death toll rises to 17, officials say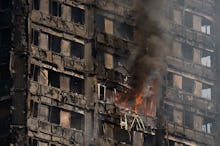 Officials say the death toll in the massive fire that ripped through a London apartment building on Wednesday has risen to 17, the BBC reported, but police warned that number could still rise.
Firefighters first responded to reports of a fire at the 24-story Grenfell Tower building early Wednesday local time, the BBC reported. At the time, "hundreds" of residents were inside the building, which has 120 apartments.
Many residents were sleeping as the fire spread, the BBC reported. It took more than 24 hours for crews to get the fire under control.
Residents of Grenfell Tower who escaped the fire described a chaotic scene. Paul Munakr, who lived on the seventh floor of the tower, told the BBC on Wednesday that he first realized there was a fire in the building when he heard people on the street below calling out, "Don't jump, don't jump."
"As I was going down the stairs, there were firefighters, truly amazing firefighters that were actually going upstairs, to the fire, trying to get as many people out the building as possible," he said.
Another resident, Michael Paramasivan, who also lived on the seventh floor of the tower, told the BBC that he and his family ignored advice from officials to stay put in their apartment.
"If we had stayed in that flat, we would've perished," he said. "My gut instinct told me just to get the girls out. I wrapped the little one up because of the smoke and I just got them out."
The cause of the fire is still unknown, the BBC reported on Thursday. Local rescue centers have been set up to house residents left homeless after the fire, and donations of basic necessities like food and clothes have pouring in. Volunteers even had to start turning donations away.
Celebrities came out to the scene of the fire Wednesday night, including Adele, who hugged fans, and Rita Ora, who helped sort through donations, the BBC reported.
More than 30 people are still hospitalized after the fire, and 17 of them are in critical condition, according to the BBC. On Thursday morning London Fire Commissioner Dany Cotton told the BBC that crews were still searching the building, but that officials did not expect to find any more survivors at this point.