'Daily Caller' reporter Kaitlan Collins to join CNN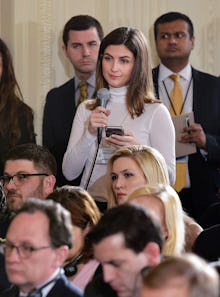 Kaitlan Collins, the White House correspondent at the conservative news site Daily Caller, is joining CNN, Mic has learned.
Collins, one of Daily Caller's most prominent reporters in Washington, will be reporting from the White House in her new role at the cable channel.
Her first day will be Monday.
Collins first joined Daily Caller in June 2014 as an entertainment reporter, and she officially took over the White House beat in January. She has made regular television appearances on CNN, as well as on Fox News.
Daily Caller was founded by the conservative commentator Tucker Carlson, who is now a primetime show host at Fox News.