Lyle Jeffs, polygamous sect leader, captured after a year of being on the run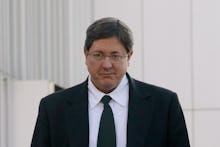 According to an FBI spokeswoman, polygamous sect leader Lyle Jeffs has been found after escaping house arrest last summer, the Associated Press reported.
Jeffs escaped confinement on June 18, 2016, in Salt Lake City, where he was awaiting trial for an alleged multimillion-dollar food stamp fraud scheme. According to Fox 13, the scheme involved Jeffs and other sect leaders allegedly forcing food stamp recipients to hand over all benefits to sect leaders.
Jeffs' brother, Warren Jeffs, is currently in prison, though is believed to still be leading his sect, the Fundamentalist Church of Jesus Christ of Latter-Day Saints.
According to the Washington Post, the FBI believed in 2016 that Lyle Jeffs may have used olive oil to slip out of his ankle-monitoring device to escape. However, Jeffs' lawyer said in a court document that he may have experienced the "miracle of rapture."
The Southern Poverty Law Center designates the FLDS as a "white supremacist, homophobic, anti-government, totalitarian cult."
According to testimony of former FLDS members, people whom Warren Jeffs designated as "bishops," including his brother Lyle, were at the top of the compound's pecking order while Warren Jeffs served time. The rest of the people, however, subsist on noodles, brown rice, tomato juice, bread and yogurt.