'Family Guy' to air Adam West-centric episode 'The Dating Game' in tribute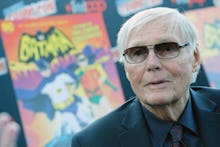 While Adam West may have been best known for playing Batman in the classically campy television series of the same name, an entire generation of fans knew the late actor for his hilarious voice work in Fox's Family Guy. Playing a fictional, and overly goofy, version of himself, West appeared in more than 100 episodes of Family Guy as the mayor of Quahog, Rhode Island.
Following the news that Adam West had died of leukemia, Entertainment Weekly reported that Fox will be re-airing an Adam West-centric episode on Sunday in tribute of the legendary TV actor. The episode, titled "The Dating Game," sees Mayor Adam West win an auction for a medieval castle-themed restaurant.
Family Guy will honor West with a tribute card that will appear before the episode airs at 8:30 p.m. Eastern. The New York Daily News reported that Fox had originally intended to air a different rerun of Family Guy, before making the switch in honor of West.
Previously, Family Guy creator Seth MacFarlane tweeted out a tribute to his friend:
Family Guy has lost its mayor, and I have lost a friend. Adam West was a joy to work with, and the kind of guy you always wanted to be around. His positivity, good nature and sense of fun were undeniable, and it was always a big jolt of the best kind of energy when he walked in to record the show. He knew comedy, and he knew humanity.
I am beyond fortunate to have had the privilege of working with him, and he will be profoundly missed by all of us. Thank you from the bottom of my heart for all that you have given, Mr. Mayor. You're irreplaceable.
According to the Daily News, DC Comics and Los Angeles are also planning to celebrate West by honoring his work as Batman. The city will shine a bat-signal in the sky on Thursday beginning at 9 p.m. local time.
Mic has ongoing coverage of Family Guy. Please follow our main Family Guy hub here.