You can now comment with GIFs on Facebook. Here's how to do it.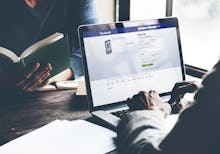 If a picture says a thousand words, then a GIF says a million. Communicating via GIF can be more effective — and hilarious — than words. On Thursday, to celebrate the 30th anniversary of the GIF, Facebook rolled out a GIF button that allows social media users to leave comments with GIFs.
Facebook started to experiment with animated GIF comments three months back. In March, the social media giant began testing a GIF button that would let users post GIFs from the likes of Giphy and Tenor. But it was only available to a small portion of the platform's users.
"Everyone loves a good GIF and we know that people want to be able to use them in comments," a Facebook spokesperson told TechCrunch at the time. "So we're about to start testing the ability to add GIFs to comments and we'll share more when we can."
Now the feature is now available to all users.
Adding a GIF is simple: when you're going to leave a comment, you'll notice an icon to the left inside the comment box next to an emoji icon. It'll read "GIF." Clicking that will trigger a menu of GIFs to pop up and a search window — type in keywords to search for specific genres of GIFs. When you tap on any given GIF, it'll post directly as a comment. Note that you cannot add accompanying text and it won't ask you for confirmation before posting.
Facebook introduced GIF support to its Messenger app in 2015. According to the company, Messenger users sent 13 billion GIFs in the last year — that's almost 25,000 GIFs a minute. What's more, the number of GIFs being sent on the stand-alone messaging platform has tripled in the past year.