Despite reluctance to call itself feminist, 'The Handmaid's Tale' is about women's collective power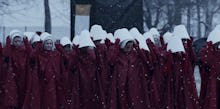 Women are stronger when they band together.
It wasn't always clear that Hulu's adaption of The Handmaid's Tale would end on such a strong feminist statement, considering the cast's baffling resistance to labeling the show a feminist work.
For that reason and others, one scene in The Handmaid's Tale's season finale, which aired on Wednesday, felt particularly hard-won, both for viewers and the show's protagonist, played by Elisabeth Moss.
In it, Offred and the other handmaids are summoned to a "salvaging," a ritual requiring the handmaids to kill someone who's violated Gilead's laws. In the series' premiere, the convicted felon put to death was a man who raped a handmaid; in the finale, though, the convict is Janine, a friend of Offred's and the other handmaids.
Aunt Lydia, the handmaids' handler, encourages each of them to pick up a stone and gather in a circle around Janine. They know the drill: When Lydia blows the whistle, they're to begin stoning their fellow handmaid.
The handmaids exchange worried glances, until one of them, Ofglen, speaks up: "Aunt Lydia, come on, we can't do this! Seriously? Guys, this is insane. No, I'm not going to do it. I'm not going to kill Janine."
Guards beat Ofglen to the ground and drag her away but, when Aunt Lydia blows the whistle, the handmaids remain immobile, refusing to kill their friend. Offred steps forward, drops her stone and says, "I'm sorry, Aunt Lydia." The other handmaids follow suit, a chorus of "I'm sorry, Aunt Lydia"s echoing in the field.
Aunt Lydia tells them to go home, promising that there will be consequences for their passive rebellion.
The handmaids file out two by two with Offred leading the pack as they walk down the street.
"They shouldn't have given us uniforms if they didn't want us to be an army," she narrates.
Simply put, it's one of the most powerful and visually stunning scenes in the show's first season. Moss, who plays Offred, shows off the quiet strength of her character, who doesn't think of herself as a hero, but walks away with the swagger of someone who has achieved a small but important victory.
It's in this moment that Offred taps into the feminist message at the heart of the show.
At first, Offred seemed resistant to the notion that women's solidarity and collective power could be a tool to fight oppression.
In the season premiere, Offred introduces herself by telling viewers, "I intend to survive." Initially, Offred figures the best way to do that is to keep her head down, follow the rules and avoid the fates of handmaids who attempt any kind of resistance. But as the series goes on, Offred discovers that her connection to other handmaids is the only way she'll stay sane, and her best chance at not just survival, but freedom.
Earlier in the season, there's a flashback to Offred getting brutally whipped and sent to her quarters without any food as punishment for trying to escape with Moira, her best friend and another handmaid. Though she's lying in bed with her bloodied feet wrapped in bandages, a smile creeps over her face as, one by one, the other handmaids deposit small bits of food they've saved for her onto her bed.
In the same episode, Offred discovers the words "Nolite Te Bastardes Carborundorum" etched into the doorframe of her closet — a message from a former handmaid, reminding her: "Don't let the bastards get you down."
In the series' final few episodes, Offred learns of the existence of Mayday, an organization resisting Gilead's totalitarian regime. Her first task as a Mayday member is to procure a package, which she eventually manages to do with a little help from Moira. When she opens it, dozens of letters spill out, all from other handmaids recounting their stories of rape and abuse and asking someone, anyone, to help.
As Offred lies on the bathroom floor surrounded by these harrowing accounts, it becomes clearer than ever that she's not alone; her mission to survive isn't an individualistic one.
Beyond the realm of Gilead, in President Donald Trump's America, women have heeded the call to unite in resistance — many of them in the handmaids' signature red robes and white bonnets.
In March, women dressed as handmaids silently protested multiple anti-abortion bills in the Texas state legislature, one of which banned a common second-trimester abortion procedure. And just this week, another bunch of women in Handmaid's Tale garb staged a demonstration in the Ohio Statehouse, protesting a bill seeking to ban the same procedure, known as "dilation and evacuation."
These reenactments create an exaggerated vision of what life could be like if Trump and his cohorts succeed in overturning Roe v. Wade and shuttering Planned Parenthood clinics across the country.
Meanwhile, plainclothes women continue to be a threat to Trump and his administration, after piling into the streets by the hundreds of thousands for January's women's marches, making up 86% of the anti-Trump calls to their representatives in Congress and generally speaking truth to power.
In an interview with the Daily Beast, Moss said this mass movement of women is exactly what the leaders of Gilead are trying to prevent.
"These women are enslaved and part of the way they are enslaved is by stripping away their individuality, stripping away their right to speak to each other," Moss told the outlet. "They're prevented from forming a resistance. Because if women get together and form a resistance, you can't stop them."
Viewers, however, don't yet get to find out what Offred's punishment will be for sparking the handmaids' resistance.
"If women get together and form a resistance, you can't stop them."
At the end of the season finale, Offred is whisked off in the Eyes' ominous black vans, which have only ever driven handmaids to their deaths or maimings. Nick, an Eye involved in a blossoming romance with Offred, assures her that it will be OK, but we won't know for sure if that's true until season two.
Still, there's a part of us that senses he's right, not just because the show depends on Offred's continued survival, or because her situation seems particularly promising; but because no matter what, she'll have an army of handmaids, of women, to back her up.