While You Weren't Looking: 9 big stories you're forgiven for missing during this roller-coaster week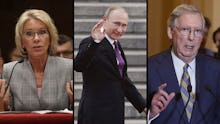 Between Attorney General Jeff Sessions' congressional testimony, the horrific shooting at a congressional baseball practice and the bombshell report alleging President Donald Trump is being investigated for obstruction of justice, you're forgiven for having missed some of the quieter storylines that shaped Washington this week.
Here are the big policy and political stories that flew under the radar amid all the drama:
Senate reins in Trump's ability to roll back Russia sanctions
In an overwhelmingly bipartisan move, the Senate voted 97-2 to approve a new round of Russian sanctions. Included in the measure is a requirement that Congress review any rollback of sanctions that the Trump administration may want to carry out unilaterally.
The sanctions were passed as an amendment to an Iranian sanctions bill, which must now make its way through the House of Representatives. Republicans expect that Trump will sign the bill if it passes.
Trump administration reevaluating rule aimed at stopping abuses by for-profit colleges
The Trump administration, which took over the White House just months after Trump himself settled a multimillion-dollar fraud lawsuit over his "Trump University," now wants to reevaluate rules designed to prevent fraud at for-profit colleges.
On Wednesday Trump's Education Department announced that it will be reevaluating the so-called "gainful employment" rule, a regulation created by the Obama administration that cut off federal funds to for-profit colleges whose graduates do not make enough money to pay of their student loans.
A trans woman won a primary to take on Virginia's most anti-trans state legislator
On Tuesday, Virginians voted in the primary race for their upcoming state elections. The primaries received a small amount of national attention, and most of it focused on the race for governor. But in a historic victory, Danica Roem took a major step toward becoming the Virginia House of Delegates' first-ever out transgender legislator.
Roem will now face Republican incumbent Bob Marshall, who has been described as the state's most anti-transgender politician. He is the sponsor of a bill to make Virginians use bathrooms of the gender they were assigned at birth — similar to North Carolina's highly controversial HB2.
"He spent more time on where I go to the bathroom than on fixing Route 28," Roem said of her opponent in an interview with the Intercept. The general election will take place in November.
Senate Republicans edge closer to passing a health care bill
This week multiple news outlets reported that Senate Republicans might be on the verge of passing their version of a replacement bill for the Affordable Care Act. Senators are working to moderate the version of the health care bill that passed through the House of Representatives in May.
According to Vox, senators broadly agree on increasing the amount of money that the House bill allocated for tax subsidies for individuals buying insurance and are trying to reach a compromise on how much they want to roll back the Affordable Care Act's protections for people with pre-existing conditions. If the Senate passes a version of the health care bill, legislators will then have to reconcile their bill with the House version before it can move to the president's desk.
Congressional Democrats, Maryland and Washington, D.C., sue the president
The state of Maryland, the District of Columbia and nearly 200 Democratic lawmakers brought lawsuits against Trump this week for potential violations of the emoluments clause of the U.S. Constitution. The emoluments clause states that federal officials cannot accept gifts — or "emoluments" — from foreign powers without approval from Congress. The lawsuits allege that Trump has violated this provision by taking money from foreign governments in various ways through his business.
Washington, D.C., and Maryland's joint lawsuit alleges that Trump violated the emoluments clause by attracting foreign visitors to his businesses and putting other local businesses at a disadvantage. A separate lawsuit from House and Senate Democrats alleges that Trump has deprived them of their right to approve or deny any such gifts.
Trump travel ban suffers another major blow from the courts
On Monday a federal appeals court struck another blow to Trump's proposed travel ban. After losing in the 4th Circuit Court of Appeals in Virginia in May, Trump's ban on travelers from six majority-Muslim countries lost another appeal in the 9th Circuit this week.
The administration now appeals to the Supreme Court which, should it choose to hear the case, will issue the final decision on the issue.
House GOP canceled hearing on deregulating gun silencers following shooting
After Wednesday's shooting that injured House Majority Whip Steve Scalise (R-La.) and four others, House Republicans canceled a scheduled hearing on a measure that would make it easier to purchase gun silencers.
The hearing had been scheduled for the same day as the shooting. Republicans wanted to end background check requirements for purchasing silencers and destroy existing records of gun silencer purchases. Advocates of the measure say silencers serve to protect a shooter's hearing. Gun safety advocates say the device makes guns more dangerous by muting loud gunshot noises that alert bystanders to the presence of deadly gunfire and help first responders identify the crisis.
Head of Michigan health department faces manslaughter charges for Flint water crisis
The head of Michigan's health department has been charged with involuntary manslaughter for allegedly failing to report an outbreak of Legionnaires' disease in the city of Flint.
The outbreak followed a state decision to switch the city's water supply to untreated water from the Flint River, resulting in dangerous levels of lead and an ongoing crisis in the state. About 99,000 people were affected by the contaminated water.
Two arrested in connection with fight outside Turkish ambassador's residence
U.S. Marshals have arrested two people in connection to the brawl that occurred on May 16 outside the Turkish ambassador's residence. Sinan Narin and Eyup Yildirim were both charged with felony assault for their alleged involvement in the incident.
In May, bodyguards for Turkish Prime Minister Recep Tayyip Erdogan were seen clashing with Kurdish protesters who were demonstrating outside the residence. At the time, Erdogan was in Washington to meet with Trump at Trump's invitation.
June 19, 2017, 1:00 p.m.: This story has been updated.
Correction: June 19, 2017