Georgia Prison Escape: Manhunt for escaped inmates enters third day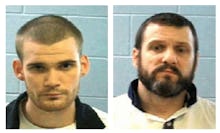 The manhunt for two Georgia inmates who allegedly killed two guards and escaped a prison transport bus Tuesday has entered its third day.
Donnie Russell Rowe, 43, and Ricky Dubose, 24, remain at-large and are said to be armed with guns they stole from the prison guards.
The two escapees — who were once cellmates — were being transported down Highway 16 in Putnam County to the Georgia Diagnostic and Classification Prison outside Eatonton when they are said to have overpowered and killed two officers, Christopher Monica and Curtis Billue, and then fled.
The two then reportedly carjacked a green Honda Civic, which investigators later found ditched in the woods in Morgan County, Georgia, where they are believed to have stolen a white Ford pickup truck.
A $90,000 reward is being offered for information leading to the arrest of the two escaped inmates.
Rowe has been serving a life sentence without parole since 2002 after being convicted on charges of armed robbery and aggravated assault. Dubose has been serving a 20-year term since 2015, also on armed robbery and aggravated assault charges.
"They are dangerous beyond description," Putnam County Sheriff Howard Sills told reporters.
Monica, 42, and Billue, 58, are being remembered as having had an "unwavering commitment to their job and their love of family." A GoFundMe page has been created to support Monica's family.