Fashion icon and clapback queen Zendaya finally lands her first 'Vogue' cover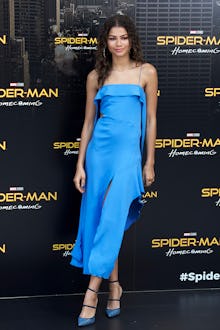 At long last, actress, singer, fashion icon and clapback queen Zendaya has landed her first-ever cover of Vogue.
Zendaya appears on the front of the July issue in a multicolored Calvin Klein dress, with her hair straightened and pulled back. "Actor, activist, it girl," the cover reads.
The inside pictures shot by Vogue favorite Mario Testino feel just as legendary, too, as Zendaya posed with her nieces donning eclectic fashion pieces from Prada, Dolce & Gabbana and McQueen, all with feather accents.
People are already freaking out about the cover on Twitter:
Beyond just the cover, of course, Zendaya gave Vogue an extensive interview in which she talked about everything from her upbringing to Spider-Man: Homecoming to the controversy and subsequent statement she wrote after being criticized for wearing dreadlocks to the 2015 Academy Awards.
"I went to my room, gathered my thoughts and wrote something down, which is what two teachers would have wanted me to do," she told Vogue.
All in all, this feels like a win.