Nintendo Switch 'Arms' Game: Don't challenge the producer of 'Arms' to a match — ever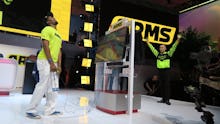 It's clear that Nintendo wants the Switch to be a tournament console. The inclusion of LAN play, the start of Nintendo's tournament Twitter account and the three invitationals Nintendo is holding at this year's E3 all point to that fact. We've seen glimpses of Splatoon in tournament play, as well as Arms, but it's not often champion players get to face off against the game's creators.
The Arms champion Zerk beats SkywardWing to face off against the final boss, Mr. Yabuki
If you were anywhere near the Nintendo booth at E3 on June 14, you definitely didn't miss hearing the shouts and cheers from the tournament area. Zerk and Twintelle faced off against SkywardWing and Ribbon Girl. The match ended in a victory for Zerk. Not only did the champion get to meet the game's producer, Kosuke Yabuki, the Arms developer handed Zerk the champion belt.
Mr. Yabuki passed on the belt in a winning moment for Zerk, but not without challenging him to a friendly game of Arms.
Zerk had healing powers and heavy-hitting at his disposal with Master Mummy. Zerk even knew when to use Master Mummy's rush, but to no avail.
It was an easy victory for Mr. Yabuki. Afterward, in the second match, Mr. Yabuki had a much tougher time. Toward the end of the match, Zerk put Yabuki on the figurative ropes, but Min Min was confident the whole time.
It was on June 14 that the Arms community learned that the spring pads, when grabbing and rushing, are your best friends.
Zerk switched to Spring Man while Mr. Yabuki went with Zerk's winning character. The first round did not go well for Zerk.
Neither did the second.
It just goes to show you that when facing a game's producer, you can only arm yourself with so much knowledge. At least we're all wiser for it.
Watch the whole match below.
Check out more Nintendo E3 2017 news and coverage
Check out even more news from Nintendo's big E3 2017 presentation, including an exciting look at Super Mario Odyssey, new details about the Zelda: Breath of the Wild DLC and confirmation that Rocket League is coming to the Switch, plus the latest on a new Metroid game.