The new 'Yoshi' game for Switch appears to be Nintendo's answer to 'LittleBigPlanet'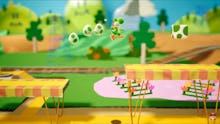 I've long loved Yoshi. He's my character of choice in Mario Kart. I didn't buy a Wii U, so I almost missed out on Yoshi's Woolly World, until they announced it for 3DS. The Woolly Yoshi amiibo is the only one I own. So, imagine my utter elation when I saw the new Yoshi game for Nintendo Switch debuting on Nintendo Treehouse.
Yoshi for Nintendo Switch: Looks like LittleBigPlanet without the creative mode
LittleBigPlanet is a staple game in my collection. I've loved all three iterations and my son is an enormous fan of the third. Nintendo had almost captured my attention with similar mechanics in Paper Mario, but it didn't stick as well as I'd hoped. It was charming, for sure, but it wasn't for me.
The new Yoshi game appears to combine LittleBigPlanet, Paper Mario and Yoshi's Woolly World into this remix of adorableness.
The aesthetic, mechanics and overall cute factor are making me hop aboard the hype train faster than I did with Yoshi's Woolly World. There appears to be two different ways to interact with the game's levels: on the front side, which is the traditional playthrough, and the back side, which shows the "behind the scenes" version of Yoshi's new cardboard world. As always, curiosity is encouraged.
In the meantime, I'm going to have to tide myself over with the 3DS port of Woolly World. There's no word of what the official title is or when the game will be released, but I'm betting on holiday 2018.
More news from Nintendo at E3 2017
Check out even more news from Nintendo's big E3 2017 presentation, including an exciting look at Super Mario Odyssey, new details about the Zelda: Breath of the Wild DLC and confirmation that Rocket League is coming to the Switch. Plus the latest on new Metroid and Kirby games on the way.