California high schoolers reportedly created a "n*gger kill list" — but no one has been disciplined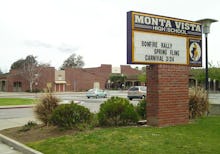 At Monta Vista High School in Cupertino, California, every single black student was reportedly put on a "n*gger kill list" created by between six and 10 nonblack students at the school, the Root reported.
The students shared the list on social media, but when the students responsible were identified, no one was disciplined, community members say. A spokesperson from the school district said that "appropriate disciplinary action" had been taken, according to the Root.
The high school is only 0.1% black, and the black community in Cupertino is still seeking justice. Attorney Richard Richardson filed a lawsuit on behalf of one student on the kill list, who has since left the school amid the racial tensions and threats. The lawsuit accuses the school's Fremont Union High School District of violating federal and civil rights claims and state education codes because they did not prevent discrimination against black students nor did they enforce anti-bullying policies. Other black community leaders have accused the school of not properly notifying the students or parents about the discovery.
"The students themselves had no idea that their lives were being threatened," said community activist Walter Wilson said during a Tuesday press conference. "The parents had no idea they were sending their kids to school in what they thought was a safe environment, which clearly it was not or may not have been."
In the same press conference, Richardson said the group of teens even "talked about how many bullets it would take" to kill his client. Multiple leaders, including Wilson and Malik Brown, an activist at the Black Kitchen Cabinet, compared the school's negligence to that seen during Colorado's Columbine High School shooting.
"Does one of these kids have to be killed before we start talking about it?" Brown said. "It's a n*gger kill list. It's an easy reference back to Columbine."
This issue is also similar to other incidents that have happened within the last year. In March of this year, black students at an Albany, California, high school walked out in protest of a racist Instagram page being spread throughout the student population. Again, none of the students responsible for the page, which included racist images and language, have been disciplined so far. Earlier in June, a 15-year-old black girl in Los Angeles found a picture of herself being lynched shared in a group chat by her peers. In this case, the boys involved were suspended, but only until the end of the term.
By comparison, however, this past May two 15-year-old black girls were given detention, taken off of their track team, banned from extracurriculars and also banned from prom. Their offense was simply wearing box braids that, according to the school, were out of the dress code, which prohibits "extensions."
Looking back at these instances, those involved in defending the black students at Monta Vista are asking for the appropriate punishment for what they see as not just an instance of bullying but as a possible "criminal threat."
For now, however, Sheriff Laurie Smith of the Santa Clara County Sheriff's Office recently handed over the case to the District Attorney's office.