Trump says injured Scalise is "in some trouble"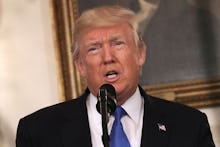 Speaking to reporters as he signed an executive order on apprenticeship programs at the White House on Thursday, President Donald Trump addressed House Majority Whip Steve Scalise, who was wounded in a shooting in Alexandria, Virginia, on Wednesday.
"It's been much more difficult than people even thought at that time," Trump said, speaking about Scalise's condition, CNN reported. "He's in some trouble."
Scalise was injured, along with several others, when a gunman opened fire on a group of Republican congressmen as they practiced for a charity baseball game on Wednesday morning. The gunman, later identified by officials as James T. Hodgkinson of Belleville, Illinois, died in custody on Wednesday.
Scalise was taken to nearby MedStar Washington Hospital Center on Wednesday where he underwent surgery, CNBC reported. Although his condition was originally reported as stable, the hospital later said in a statement that he was in critical condition and would likely require more surgeries.
"Scalise sustained a single rifle shot to the left hip," the hospital said in a statement, according to CNBC. "The bullet travelled across his pelvis, fracturing bones, injuring internal organs, and causing severe bleeding."
In a tweet sent out shortly after the shooting on Wednesday morning, Trump had said that Scalise was "badly injured but will fully recover."