When will the Senate vote on health care? Here's what we know.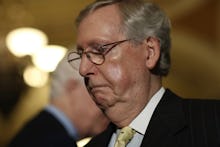 After weeks of private negotiations, the U.S. Senate is reported to be finalizing a health care bill.
According to NBC News, the all-male group of 13 senators conducted negotiations without any outside hearings involving experts, insurance industry leaders or patient advocacy groups.
On Tuesday, Senate Majority Leader Mitch McConnell (R-Ky.) told reporters, "We'll let you see the bill when we finally release it."
NBC News cited multiple Republican legislators who are publicly complaining about the closed approach to negotiations.
Currently, there is no scheduled vote on the secretive legislation before the Senate recesses for a week on June 30.
Senate argues over health care plan details
Echoing tumultuous House disputes between far-right and more moderate Republicans, the Senate is experiencing turmoil among members with differing ideas about everything from Medicaid expansion to tax credits and proposed benefit phase-outs.
The Washington Post reported that this fight, while shaded by ideology, is focused primarily on the needs of individual senators' states, according to senators who were interviewed.
Sen. John Barrasso (R-Wyo.), a member of the negations' oversight group, said, "It all comes down to making sure you get what's best for your own state."
Medicaid expansion has reportedly been a major focus in the negotiations. But some overtly ideological issues remained, with Planned Parenthood funding a specific point of discussion.
The House bill passed in May was wildly unpopular with the public. The Congressional Budget Office claimed the American Health Care Act as written would leave 23 million Americans without health insurance over the next decade. Many of the losses would be from those on Medicaid programs, which are primarily used by low-income Americans.
Since the public has no access to the Senate negotiations — and the Senate has not submitted legislation to the CBO for a score — the public has no way to evaluate the differences between the Senate and House plans.
Trump calls GOP plan "mean," reverses course on AHCA
In a closed-door lunch with Republican senators, President Donald Trump said the House version of the AHCA passed in May was "mean."
A source told ABC News that Trump said, "We need to be more generous, more kind." The House GOP bill was, according to the president, "mean, mean, mean."
Trump's current comments on the AHCA represent a reversal of his previously held position. Immediately after its passage, he called the legislation "a great plan."
In comments made during his campaign and presidency, Trump promised no cuts would be made to Medicaid, no one would be dropped from their plans and everyone would be covered.
"There was a philosophy in some circles that if you can't pay for it, you don't get it," Trump told the Washington Post. "That's not going to happen with us."