'Last Man Standing' Update: CMT in talks to renew ABC's canceled Tim Allen sitcom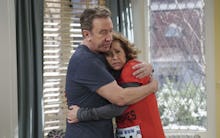 When ABC announced its list of canceled television series, there was one that was perhaps more surprising than the rest: Last Man Standing. The Tim Allen-starring series was thriving in its sixth season, and was the network's third most-viewed scripted show after Modern Family and Grey's Anatomy. While there has only been speculation, the reasoning behind the show's cancellation has been purported to be political, due to the conservative leaning nature of the series.
Last Man Standing's popularity even led to a Change.org petition in support of the show's renewal; nearly 400,000 supporters have already put down their signatures. And although it remains a long shot, Deadline reports the series may still have a leg to stand on.
While talks are mostly preliminary, CMT is exploring the possibility of renewing the series for a seventh season. The sitcom would appear to be a good fit for the network, as CMT largely targets the same demographic as Last Man Standing, and even airs reruns of the show.
Should CMT work out a deal to renew the series, it would be the second time that the cable network revived a cancelled ABC show. Following ABC's decision to cancel Nashville after four seasons, CMT swooped in to pick up the series, which is currently airing on the network.
CMT was able to take on Nashville's high production costs thanks to a partnership with Hulu, which has next-day streaming rights to the series. For CMT to pick up Last Man Standing, it may have to strike a similar partnership, especially considering the high salary Allen demands.
For now, this is all preliminary, but if talks progress, Last Man Standing could very well find a new home.
Mic has ongoing coverage of TV. Please find our main TV hub here.