Bill Cosby Trial: Jurors deadlocked, judge orders continued deliberations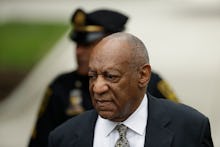 Well into its fourth day of deliberations, the jury in Bill Cosby's sexual assault trial is deadlocked.
After more than 30 hours and six separate requests to revisit key pieces of evidence and testimony, the jury told Judge Steven O'Neill, "We cannot come to a unanimous consensus on any of the counts," according to Deadspin editor Diana Moskovitz. O'Neill reportedly sent them back with orders to find a unanimous decision. The defense team also called for a mistrial, a motion O'Neill denied.
Cosby is charged with three counts of aggravated indecent assault for having allegedly drugged and molested Andrea Constand — formerly an employee at his alma mater, Temple University — in 2004. At trial, Constand testified that Cosby invited her to his suburban Philadelphia home, where he gave her three blue pills he referred to as her "friends." Because she trusted him, Constand said, she swallowed the pills, which left her feeling "frozen" and unable to fend off his advances. He groped her breasts and genitals, and forced her to stroke his penis.
The 79-year-old has maintained that the encounter was consensual, but at least 60 women have come forward with their own stories of sexual assault or harassment by Cosby, many of which mirror Constand's. Constand's is the only accusation at issue in Cosby's trial.
The 12-person jury began deliberations Monday evening, after a weeklong trial in which the prosecution called 12 witnesses and the defense, only one. Cosby himself declined to take the stand. If jurors were to find him guilty, the man formerly known as America's Dad could spend the rest of his life in prison.
If jurors truly cannot reach a unanimous decision, the judge has a few options, according to the Washington Post: Declare a mistrial; remove individual jurors from the pack — an unlikely and rarely executed move — or allow the charges to stand, leaving it up to prosecutors to decide whether or not to try the case again.