Transgender woman Josie Berrios, known as Kendra Adams, killed, suspect charged with murder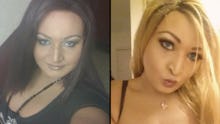 A suspect has been charged with second-degree murder in the death of Josie Berrios, a transgender woman who was in the midst of adopting the name Kendra Adams, in Ithaca, New York, the Ithaca Journal reports.
Berrios' body was discovered Tuesday morning inside a building at a construction site. It had several burns and was found next to a can of gasoline. Evidence, including surveillance video, led police to Michael Davis, 45, who police say had a personal relationship with Berrios.
The local community is mourning the loss of Berrios, who performed as a drag queen under the name Kimbella Rosé as part of the House of Merlot, a wine-themed drag house.
In the post mourning Berrios' death, the House of Merlot identified her as a founding member of the troupe.
"She was part of so many families here in Ithaca, that many are feeling stunned and lost following this news," the post says. "Her presence is still felt, and will never be forgotten."
In a phone interview, Colton Bready, a member of the Hose of Merlot who performs as Kat Von Riesling, said he first met Berrios when students were trying to bring a drag show to Ithaca College for the first time in five years. At the time, Berrios was performing under the name Egypt.
Bready described Berrios' drag as "comical and beautiful." He said that she used her act to subvert stereotypes that people had about her as a trans woman of color.
"She would take every negative thing that people brought about her and every aspect of her personalty that could be degraded and blow it back at everyone," he said. "That's what made her so great on the stage."
Bready said that she was beginning to transition to use the name Kendra Adams at the time of her death, but had not yet stopped using the name Josie Berrios and didn't correct friends who called her Josie.
Berrios' death is the 13th reported killing of a transgender woman so far in 2017. Earlier in June, Mic reported the death of Kenne McFadden, who was drowned in San Antonio.
Lala Zannell, lead organizer at the New York City Anti-Violence Project called Berrios's death a "tragic loss" in a statement:
Every life lost to violence feels devastating. The most that we can hope for that is that when people hear this story, and the stories of so many lives of transgender women of color that have been taken before, that they will take action to make their communities safer and affirming for transgender women. We all have the opportunity to challenge the ways that transphobia and racism show up in our communities.
In commemoration of Berrios, the House of Merlot will dedicate its upcoming pride drag show to her memory. Bready said he will likely perform a number that she would have performed if she were able to be there. He wants to honor Berrios' ability to take power and ownership of her life as a trans woman and a drag queen.
"When she was on stage, she was a drag queen. But when she was off, she was just a strong trans woman," he said. "But if you knew both parts of her, you saw this beautiful, huge painting in front of you. And it was louder than life, with black background and neon colors."