GOP Rep. Steve King on shooting: "I do want to put some of this at the feet of Barack Obama"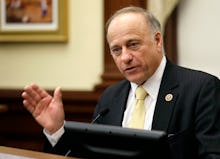 It didn't take long for the blame game to commence over Wednesday's shooting at a baseball field in Alexandria, Virginia, where Republican members of Congress were practicing for a charity baseball game.
"I do want to put some of this at the feet of Barack Obama," Rep. Steve King (R-Iowa) said Wednesday on WHO Iowa radio of the shooting, which left House Majority Whip Steve Scalise and a lobbyist in critical condition. "He contributed mightily to dividing us. He focused on our differences rather than our things that unify us. And this is some of the fruits of that labor."
King's comments came as other members of Congress not only urged unity but called for a softening in the rhetoric members of Congress use.
Other Republicans have also blamed Democrats for the Wednesday shooting: Rep. Chris Collins (R-N.Y.), a top surrogate for President Donald Trump, told a local radio show he "can only hope that the Democrats do tone down the rhetoric ... the tone and the angst and the anger directed at Donald Trump, his supporters." (Collins later apologized.)
But, more so than his Republican colleagues, King's own firebrand reputation precedes his critique: The congressman has been one of the most vocal and and divisive members of Congress, championing the debunked "birther" conspiracy that alleged Obama wasn't an American citizen, making multiple racist comments and going so far as to predict coming race war earlier this year.