CNN, USA Today sue the FBI over the Comey memos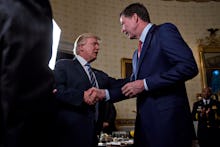 CNN and USA Today announced Thursday that they had filed separate lawsuits against the FBI to compel the bureau to release the memos written by former FBI director James Comey about his conversations with President Donald Trump.
The nine memos Comey wrote about his conversations with Trump have become the subject of intense interest following a bombshell New York Times report on the contents of one memo that revealed Trump requested Comey to stop investigating former national security adviser Michael Flynn.
In a hearing before the Senate Intelligence Committee following that report, Comey discussed the contents of other memos during his sworn testimony. Comey also revealed he had asked a friend to share the contents of one memos with a reporter. That friend, Columbia law professor Daniel Richman, said Tuesday that he had turned over the material to the FBI.
Attorneys for CNN said in court filings that the FBI did not respond to a Freedom of Information Act request for copies of those memos within the window of time required by federal law — which requires agencies to "notify a requester of the scope of the documents that the agency will produce" within 20 working days of receiving the request.
Attorneys for USA Today similarly said in filings that investigative reporter Brad Heath had not received any "substantive response" to his request to obtain any "records memorializing conversations between former Director Comey and President Trump."
USA Today's suit will, in addition to Heath, represent Daily Beast White House reporter Lachlan Markay, WIRED writer Garrett Graff, and the government transparency organization The James Madison Project, the lawsuit said.
Both CNN and USA Today have requested that the FBI immediately make the memos available in full.
It's not uncommon for news outlets to bring lawsuits against government agencies to fight for the release of requested documents. Mic could not immediately confirm whether more publications planned to file their own lawsuits to compel the FBI to release the Comey memos. Suits can be filed after the government agency either denies the request for information or if the agency does not respond within the required timeframe.
June 15, 2017, 2:45 p.m.: This story has been updated.