The world's most expensive parking spaces: 5 cities where spots can cost as much as a house.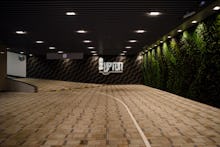 A parking space in Hong Kong has sold for $664,300, breaking a prior record by tens of thousands of dollars, as property prices on the island — a special administrative region of China — spiral ever higher, Bloomberg reports.
Why? One reason might be that Hong Kong's rising taxes on residential home purchases could be pushing people to invest in other forms of property — like parking spaces, Bloomberg suggests.
But it's not just taxes causing the frenzy, and Hong Kong is not alone. Real estate booms in several other powerhouse cities that have limited room for expansion have caused parking space prices to explode in recent years. Mic took a quick tour of the market to see what it has been looking like: Here are the priciest parking spots we could find around the world.
New York City
New York has actually seen multiple million-dollar parking spots come on the market, as real estate prices in the Big Apple have gone into overdrive. The first seven-figure spot reportedly arrived in 2012, in the same downtown condo complex Leonardo DiCaprio has called home. A rep for Delos, the developer of the property, did not respond to an emailed request for comment from Mic on whether the space has since been purchased.
Two years later, 10 other spaces went on sale at another downtown location for up to $1 million. It was not immediately clear if they sold out.
Of course, New York's real estate — and parking space — boom has not been limited to Manhattan. A $300,000 space in a garage went on the market in Park Slope, Brooklyn, in March, according to DNAInfo. What's amazing is that just four years ago, spaces in that same garage were selling for "just" $80,000. A rep for the garage declined to comment on the spaces' status.
Boston
A twin set of spots went up for auction in 2013. Bidding started at $42,000 and ended 15 minutes later at $560,000, the New York Times reported. Here's what they looked like:
Hong Kong
The newest space is just one out of a few six-figure parking spots that have cropped up in Hong Kong.
Real estate developer Jacinto Tong was offered $640,000 each for two spaces in 2012. Like the Boston spots, they were visually unremarkable: "A slab of undecorated concrete, stained by black motor oil, about 8-feet-by-16-feet in size," CNN said. But to Tong, they were "priceless" — he reportedly turned down the offers.
Two years later, another spot sold for $547,000; that spot held the record for another two years, until a relative large, 135-square foot space sold for $619,000.
London
In 2014, an underground space big enough for two cars in the city's Kensington neighborhood sold for £400,000 — which would be more than $510,000 today. According to the Telegraph, the owner still had to padlock the double doors to the spaces themselves.
San Francisco
Surprisingly, given the city's geographic constraints and skyrocketing housing prices, publicly marketed San Francisco spaces have yet to cross the six-figure threshold.
But in 2013, a spot in the South Beach neighborhood (yes, they have one) sold for $82,000. Its size was 8 feet by 12 feet, according to the San Francisco Chronicle. Sure, the cost was only five-figures, but that's enough money to buy an apartment with — at least in a cheaper city.
Sign up for The Payoff— your weekly crash course on how to live your best financial life. Additionally, for all your burning money questions, check out Mic's credit, savings, career, investing and health care hubs for more information — that pays off.