Is The Crooked Man real? Here's everything we know about 'The Conjuring 2' spin-off.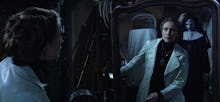 Franchises are all the rage right now, and it looks like New Line Cinema got the memo. The creative team behind The Conjuring and Annabelle is aiming to expand that universe even further with a spin-off film about The Crooked Man, who most recently terrified an English family in The Conjuring 2. Crooked Man's solo movie will join upcoming Conjuring spin-offs Annabelle: Creation, opening in August, and summer 2018's The Nun.
Who is The Crooked Man?
A play on the infamous urban legend of Slender Man, The Crooked Man made a shocking debut in The Conjuring 2 as the tall, hat-wearing, impossibly skinny manifestation of a malicious demonic spirit. His jerky, bizarre walk — perfected by creature actor Javier Botet — helped establish him as a genuinely terrifying force in the lives of the Hodgson family. Despite only appearing in two scenes, his grotesque visage lingered with viewers.
Is he real?
"Photographic evidence" of Slender Man — a similarly tall, thin, suit-loving spectre — has striking resemblance to Crooked Man. This may lead some to believe that Crooked Man, too, walks among us.
But while the name "Crooked Man" derives from an English nursery rhyme, his ghastly silhouette is actually a variation on a common horror trope. Joining Crooked Man and Slender Man in the "disconcertingly slim child kidnapper" category are Japan's Noppera-bo, England's Long Lamkin, Romania's Tall Man, Ireland's Fear Dubh and Germany's Der Großmann.
What will The Crooked Man movie be about?
There's no word yet on what territory The Crooked Man movie will cover, but its story will come straight from James Wan, the director behind 2013's The Conjuring. Similar to how Annabelle chronicled the backstory of the doll from The Conjuring, this spin-off might seek to explain Crooked Man's beginnings. Mike Van Waes will pen the screenplay.
Mic has ongoing movie coverage. Please follow our main movie hub here.