Why Birmingham should be your next Southern food trip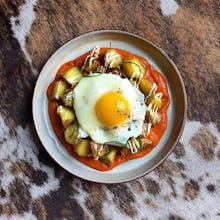 The South is synonymous with food and the ritualistic hand-me-down of recipes from mamaws and grandpappys who got it from their mamaws and grandpappys. And most cities have a signature dish that alludes to the history of its occupants. New Orleans has the po'boy, a fried fish sandwich. Memphis BBQ is always pork and always smoked slow, and Appalachia's is a bowl of smoky pinto beans with a wedge of cornbread, ideally fried in a cast iron skillet.
But until recently, Birmingham, Alabama's largest city and geographically the heart of the South, has always lacked in this regard. To understand this, you have to go back.
In the 1870s, enterprising folks caught wind of Birmingham's mineral-rich land, and its role as the South's industrial center was quickly cemented. Formed of rural farmers and migrants seeking steady employment in the city's steel mills and blast furnace, it had boomed at such a high rate that it became known as "Magic City," a place that appeared out of nowhere, like magic. But the Great Depression in the 1930s and the Civil Rights movement, in the 1950s and '60s, left the burgeoning town divided. "White flight" and the decline of the railroad system left the downtown desolate and bleak.
In Birmingham, it was about survival, and there was little room left for the culturally rich agendas enjoyed by its more established Southern sisters (Charleston is two centuries older, Memphis five decades and New Orleans is somewhere in between).
Today, the fight for inclusion is a louder cry, and in Birmingham it's championed by the culinary scene, a group of chefs, bartenders and diners who are marching forward together. Young professionals who flew the coop for larger cities are returning home, and restaurateurs are recognizing Birmingham as the capital of the new South. There are nooks and crannies and entire city-block grids in downtown's contiguous neighborhoods — Pepper Place, Five Points South, Avondale — that are unrecognizable from a few years ago.
Many trace this shift back to one man, Frank Stitt, a culinary god of sorts who has reached legendary status. He opened Highlands Bar and Grill back in 1982, when the city was still reeling from its past struggles. The finely finessed, ever-changing menu has gathered enough culinary accolades to warrant the hyped headline and hero designation. Six years later, he followed Highlands with Bottega, a Southern-tinged, Italian-inspired eatery, and in 2000, with Chez Fonfon, a classic French bistro.
Most of Stitt's culinary movements were happening when little else was. But by 2010, downtown got a new green space, Railroad Park, that helped spur growth in the area. A slew of bars followed, like Carrigan's Public House, a rough-hewn warehouse-type space that serves elevated gastropub fare (like pork cheek sliders) and equally inventive drinks, and The Collins Bar, a no-menu, dimly lit watering hole with a group of barkeeps that could rival New York City's buzziest speakeasy.
A Frank Stitt protégé, Brian Somershield, opened hipster-cantina El Barrio, a Mexican joint that has perfected the art of the mash-up — think grilled chorizo meatloaf — and a few blocks down, Feast & Forest, a bakery that knows its way around a Southern biscuit. Small-batch distilleries and breweries are moving in, too: Good People Brewing Company churns out delicious beers in a building adjacent downtown's new Regions Field, the home of the Birmingham Barons, and farther east are TrimTab Brewing Co. and Ghost Train Brewing.
Come July, a new luxury hotel, Elyton Hotel, will open in a downtown landmark building, with a distinctly Southern restaurant called The Yard. The hotel, which is part of Marriott's Autograph Collection, is strategically positioned: A block down, food fanatics can head over to the just-opened Pizitz Food Hall, which stuffs 15-some culinary concepts into one. One of those, Alabama Biscuit Co. is a good starting point for exploring the food court's offerings. And a three-minute walk from there is Roots & Revelry, a fine-dining establishment that serves American fare with a suggestion of Southern influence, like a ham hock omelette, and a smorgasbord of local brews in bottles and on tap.
Two miles east of downtown, Avondale is thriving with a casual dining scene. The city invested $3 million into the overhaul of Avondale Park's facilities, and the Avondale Brewing Co. is a top attraction in the area. Saw's Soul Kitchen, the second of three BBQ joints by Mike Wilson, opened in 2012 and since then, repurposed warehouses and businesses have become the norm in a six-block stretch launching from the gateway to Avondale Park.
Try the wood-fired pizzas at Post Office Pies. John Hall, the executive chef, returned home to Birmingham after a successful run in some of New York City's most decorated kitchens. In the back of Parkside, one of the earlier establishments in Avondale, try Hotbox, a late-night Asian-inspired snack stand served from an Airstream trailer.
There's also Melt, an ode to the grilled cheese sandwich, and Fancy's on 5th, an oyster and burger joint, the former priced by the half-dozen with a rotating selection. And for a sweet treat, Big Spoon Creamery is your Avondale go-to. Husband-and-wife team Ryan and Geri-Martha O'Hara once worked under Stitt at Bottega, and then grew their artisanal ice cream truck into a full-time storefront. Flavors like peach buttermilk and brambleberry cobbler shift along with the seasons.
At Pepper Place, a development that resides right in the middle of the 20-some-block stretch that divides downtown proper and Avondale, bars and restaurants are taking over the remains of a Dr. Pepper plant. Ovenbird, the highly anticipated follow-up of James Beard Award-winning chef Chris Hastings' famed Hot & Hot Fish Club, opened in late 2015, and it's a thrill. The ingredients are Southern, but Hastings borrows live-fire-cooking techniques from South America. Bettola is chef James Lewis' upscale pizzeria, all wood-fired Neapolitan style, alongside other flavors typical of the Campania region of Italy. This summer, Ashley Tarver, a protegée of Stitt and Hastings, will open Mediterranean-influenced Za'atar Bar and Kitchen, a happy evolution spurred from the infused olive oils she's been hawking at Pepper Place's weekly farmers market.
There's a palpable change in Birmingham's sticky, Southern summer air. And it's fitting that this town's renaissance should be guided by the hands of those in the kitchen. As the descendants of the Stitt empire become the latest culinary talents and entrepreneurs invest in the bones of Birmingham's steel-producing past, it's evident that Magic City has done it again, transforming into a culinary hotspot, out of nowhere, like magic.