Leo DiCaprio hands over an Oscar to the DOJ as it tries to seize the rights to 'Dumb and Dumber To'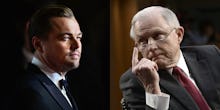 We'll try to keep this simple, but it's not going to be easy.
The Department of Justice submitted a 251-page filing on Thursday detailing a complex money-laundering scheme involving corrupt Malaysian politicians, a movie production studio called Red Granite and a treasure trove of art and jewels. Pursuant to the legal filing, the DOJ intends to seize the rights to the "comedies" Dumb and Dumber To and Daddy's Home.
Other assets up for seizing include original artwork by Van Gogh, Monet, Basquiat and Picasso, jewelry and some high-value movie posters are all in the government filing.
The developing forfeiture case begins with 1MDB, which then Malaysian Prime Minister Najib Razak turned into a state-run entity in 2009. This fund, the Justice Department claims, became a sort of private account for corrupt co-conspirators. The money trickled out into a number of assets strewn across the alleged web of corruption, but some of that money, according to the filing, went to the film production house Red Granite, which is run by Riza Aziz, the former prime minister's stepson.
As part of the forfeiture, Leonardo DiCaprio was forced to hand over an Oscar won by Marlon Brando that he was given during a charity auction. So no, it's not the Oscar that he won fair and square.
Both DiCaprio's representation and Red Granite have put out statements saying that they're fully cooperating with law enforcement.