Family of Terence Crutcher, 40-year-old unarmed black man killed by Tulsa police, files suit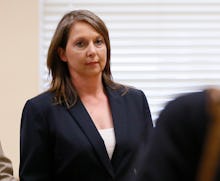 The family of Terence Crutcher, a 40-year-old unarmed black man who was killed by Tulsa police officer Betty Jo Shelby in September 2016, has filed a wrongful death suit against Shelby and the city of Tulsa. The suit seeks "redress, actual damages, compensatory damages and punitive damages" in excess of $75,000 for the family, as well as acknowledgment that Crutcher's fatal shooting "was unconstitutional as a matter of law."
A copy of the legal complaint, which was provided to Mic by the Crutcher family attorney, alleges that the deceased was "unarmed, non violent and non-threatening" when he was "unjustly seized" and "unnecessarily shot and killed without probable cause by [Shelby]."
The suit characterizes the Tulsa Police Department's training practices as "deliberately indifferent to ensuring the constitutional rights of city residents," adding that "this deliberate indifference is particularly true for the city's African-American population."
In an April interview with 60 Minutes, Officer Shelby described Crutcher's behavior as "zombie-like," which led her to believe he may have been on PCP. In May, Shelby told a jury that she feared for her own life when she killed Crutcher, believing him to be reaching into his SUV for a gun when she fired at him.
No weapon was ever found in Crutcher's vehicle.
Officer Shelby was found not guilty on a first-degree manslaughter charge for fatally shooting the unarmed Crutcher. Though she had been placed on unpaid administrative leave shortly following the incident, Shelby was allowed to return to work five days later.
Footage of the encounter was widely circulated on social media after TPD made it available to the public days after Crutcher was shot last September. Ray Owens, a pastor at the Metropolitan Baptist Church in Tulsa who was one of the first to see footage of the incident, called the video "one of the worst [videos of an unarmed black person being killed by police] we have seen nationally."
(Editor's note: This video, which was provided to Mic by Tulsa police, contains disturbing footage. View with discretion.)
Aaron Morrison provided additional reporting to this story.
June 15, 2017, 5:47 p.m.: This story has been updated.