Spox: Vice President Mike Pence has hired outside counsel for Mueller's Trump-Russia probe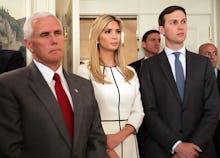 Jarrod Agen, a spokesman for the office of United States Vice President Mike Pence, confirmed to CNN Thursday that Pence has hired Richard Cullen, former attorney general of the state of Virginia, to represent his interests as they pertain to special prosecutor Robert Mueller's investigation into the Trump campaign's ties to Russia.
"I can confirm that the vice president has retained Richard Cullen of McGuire Woods to assist him in responding to inquiries by the special counsel," Agen said in a statement, "The vice president is focused entirely on his duties and promoting the president's agenda and looks forward to a swift conclusion of this matter."
Pence's announcement comes one day after the Washington Post reported that Mueller is investigating President Donald Trump for possible obstruction of justice — an investigation triggered by Trump's shock decision to fire former FBI director James Comey.
A spokesman for Marc Kasowitz, Trump's personal attorney, admonished the FBI for appearing to have leaked classified information.
"The FBI leak of information regarding the president is outrageous, inexcusable and illegal," Kasowitz's spokesman Mark Corallo said to the Post.