Report: Special Counsel Mueller is investigating Jared Kushner's finances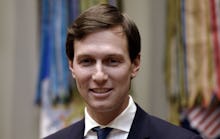 According to the Washington Post, Special Counsel Robert Mueller is investigating the business dealings of Jared Kushner, a former New York real estate developer who currently serves as special adviser to his father-in-law, President Donald Trump.
"We do not know what this report refers to," Jamie Gorelick, a lawyer for Kushner, told the Post, "It would be standard practice for the Special Counsel to examine financial records to look for anything related to Russia. Mr. Kushner previously volunteered to share with Congress what he knows about Russia-related matters. He will do the same if he is contacted in connection with any other inquiry."
The probe into Kushner's business matters is part of Mueller's wider investigation into Russia's alleged interference in the 2016 presidential election. Officials with knowledge of the matter told the Post the FBI and federal prosecutors have also been scrutinizing the finances of former national security adviser Michael Flynn, former Trump campaign chairman Paul Manafort and other Trump associates.
The Post, which has been leading coverage into investigators' interest in Kushner's interactions with Russian officials, previously reported that U.S. officials were aware that Russian Ambassador Sergey Kislyak told his Kremlin superiors that Kushner suggested establishing a secret channel between the Kremlin and Trump's transition team in December.
June 15, 2017, 8:07 p.m.: This story has been updated.