Escaped Georgia inmates arrested after car chase in Tennessee, according to Georgia Governor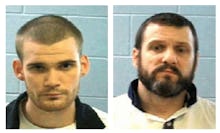 The two Georgia inmates who allegedly killed two prison guards while escaping custody have been apprehended by authorities following a car chase in Tennessee, according to a tweet from Georgia Governor Nathan Deal.
According to CNN, police finally captured Donnie Russell Rowe, 43, and Ricky Dubose, 24, in Rutherford County, Tennessee, on the third day of a manhunt to bring them back into custody. The Tennesseean reports that, after discovering that Rowe and Dubose had allegedly invaded a home at gunpoint and tied up the couple that lived there, local police chased the escaped inmates until the fugitives crashed their vehicle, causing the suspects to flee on foot.
The final chase, which ensued on foot for six miles, shut down the Tennessee interstate.
Authorities suspect that at least one of the two escaped inmates is responsible for shooting and killing Officers Christopher Monica and Curtis Blue while they were transporting Rowe and Dubose by bus between Eatonton and Sparta in Georgia, according to CNN.