'NBA Playgrounds' Patch 1.20: Delivers new legends, stars, YouTubers and more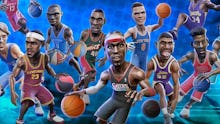 Saber Interactive has released yet another patch and update for NBA Playgrounds. This one addresses a few gameplay issues such as increased penalization for disconnectors and some gameplay freezes at different points in the gaming experience.
Patch 1.20 is out for PC and PlayStation 4 and coming soon for Xbox One and Nintendo Switch. Here's a look at what it adds to the game:
NBA Playgrounds Patch 1.20: 35 new players
Ben Wallace, Bernard King, Earl Monroe, Elvin Hayes, Isiah Thomas, Joe Dumars, John Havlicek, Julius Erving, Kevin McHale, Manute Bol, Muggsy Bogues, Steve Nash, Yao Ming, Joakim Noah, Joe Johnson, Andre Iguodala, Bismack Biyombo, D'Angelo Russell, Julius Randle, Justise Winslow, Kyle Korver, Manu Ginobili, Nick Young, Robin Lopez, Serge Ibaka, Tyler Johnson, Adrian Dantley, Arvydas Sabonis, Bob Cousy, David Thompson, Larry Nance, Mark Price, Detlef Schrempf, Wes Unseld, Lou Williams
NBA Playgrounds Patch 1.20: Players with second teams
The following players can now be played on a second team. Previously they were only available for one of the teams they had played for during their careers.
Lebron James (Miami Heat), Dwyane Wade (Miami Heat), James Harden (Oklahoma City), Kevin Durant (Oklahoma City), Derrick Rose (Chicago Bulls) Gary Payton (Seattle Sonics), Shawn Kemp (Seattle Sonics), Rajon Rondo (Boston Celtics), Alex English (Dallas Mavericks), Walt Frazier (Cleveland Cavaliers), Clyde Drexler (Houston Rockets), Alonzo Mourning (Charlotte Hornets), Jason Kidd (New Jersey Nets)
NBA Playgrounds Patch 1.20: YouTubers and new venues
The Seattle SuperSonics get some love in the new patch, as do five YouTube personalities. The following YouTube directors are now playable characters in the game:
• iMAV3RIQ, iPodKingCarter, QJB, Troydan, DenkOps
NBA Playgrounds Patch 1.20: Gameplay changes and fixes
• Now when the time of the match reaches zero and the ball is still in the air the match won't end until the shot is resolved (either by scoring or failing).
More sports gaming news and updates
Love sports games? Check out more content from Mic, including tips for leveling up your MLB The Show RTTS player, the new story mode in Madden 18, a wish for the WWE 2K18 release and a detailed sports video game release calendar.