On the 5th anniversary of DACA, Trump administration revokes DAPA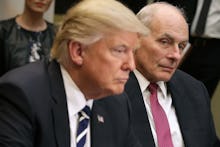 The Trump administration on Thursday announced it is ending the Deferred Action for Parents of Americans and Lawful Permanent Residents program, or DAPA — the Obama-era policy that would have granted a pathway to citizenship for undocumented immigrants whose children are United States citizens or residents.
Homeland Security Secretary John Kelly signed a memorandum rescinding the program, which was put forth by former President Barack Obama and blocked by a federal court in 2015, because "there is no credible path forward to litigate the currently enjoined policy," according to the DHS.
The announcement came on the fifth anniversary of the Deferred Action for Childhood Arrivals program.
DAPA — along with an expansion of the DACA — was part of a series of immigration reforms Obama put forth in 2014 in an effort to fix "this broken immigration system."
"If you've been in America for more than five years; if you have children who are American citizens or legal residents; if you register, pass a criminal background check, and you're willing to pay your fair share of taxes — you'll be able to apply to stay in this country temporarily without fear of deportation," Obama said at the time. "You can come out of the shadows and get right with the law. That's what this deal is."
But the program faced immediate legal challenges. Texas and several other states filed a federal lawsuit against it days after it was announced, accusing Obama of "attempting to rewrite immigration laws, which he has no authority to do."
A federal judge in Texas halted the implementation of the program in 2015, and in June 2016 the Supreme Court deadlocked 4-4, leaving the lower court ruling in place.
In his immigration platform, President Donald Trump had vowed that his administration would "immediately terminate President Obama's two illegal executive amnesties."
Kelly's memo Thursday also rescinded the extended work authorization under DACA included in Obama's 2014 immigration measures, but keeps the 2012 DACA memo in place.