Parliament put on lockdown after man arrested outside, according to reports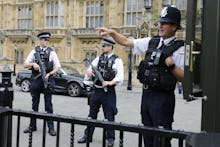 The houses of Parliament were placed on lockdown Friday after an incident outside led London police to arrest a man at gunpoint, according to reports.
London Police said officers "became aware of a man acting suspiciously. The officers approached the man in order to speak with him. The man reached for a knife, and police discharged a Taser," CBS News reported.
Nobody was injured in the incident, according to police.
The arrest occurred outside Westminster Gate. Less than three months ago, 52-year-old Khalid Masood drove a car through a crowd of people on Westminster Bridge and stabbed a London police officer to death outside Parliament in an attack claimed by ISIS. Five, including Masood, were killed in the March attack and dozens were injured.
Police have not yet announced a potential motive in Friday's incident, but "remain open minded as to whether terrorism was a motive," according to the BBC.
Ben Glaze, deputy political editor of the Daily Mirror, described the lockdown on Twitter, writing that he "heard shouting and saw a policeman with his gun raised outside."
In photos of the scene posted to Twitter, a man in a gray hoodie is seen being handcuffed by police.
June 16, 2017, 9:23 a.m. Eastern: This story has been updated.