Russia says it may have killed Islamic State leader Abu Bakr al-Baghdadi in Syria airstrike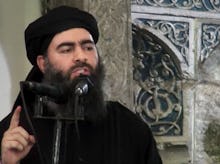 The Russian Defense Ministry says it may have killed Abu Bakr al-Baghdadi, the leader of the Islamic State, in a May airstrike on Syria, the Associated Press reported Friday.
The killing is "being verified through various channels," according to the Russian Defense Ministry, and a spokesperson for the United States-led coalition fighting the Islamic State could not confirm it.
The Islamic State leader has been rumored to be dead on a number of occasions dating back at least to 2015. But, the Atlantic notes, Russia has "rarely made such claims."
On Friday, the Russian Defense Ministry said that its May 28 strike on ISIS-held Raqqa may have killed al-Baghdadi, Sputnik, Russia's government-run news agency, first reported Friday. Sputnik also claimed that Syrian state television reported on Sunday that al-Baghdadi was killed in a U.S.-led airstrike.
The Defense Ministry said through Sputnik that "about 30 mid-level commanders and up to 300 militants" were also killed in the strike in the Northern Syrian city.
According to the AP, al-Baghdadi's death would be considered a "severe blow" to the Islamic State, which has been struggling to maintain its grip on Raqqa.
Still, the AP reported, Russian Foreign Minister Sergey Lavrov said in a press conference in Moscow that the death was still unconfirmed and that the Islamic State could still recover from the death of its leader.
"I don't have a 100% confirmation of the information," Lavrov said, adding that "past examples of similar actions to strike the leadership of terrorist groups were presented with much enthusiasm and pomp, but the experience shows that those structures later regained their capability."