Lorde's 'Melodrama' is here: Download and streaming options for the new album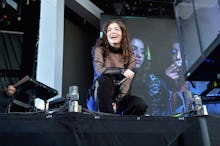 In 2013, New Zealand singer Lorde became an international sensation with the release of her hugely popular single, "Royals." That song, off of her debut album, Pure Heroine, peaked at number one on the Billboard Hot 100. Four years later, Lorde's highly anticipated second studio album, Melodrama, has finally dropped.
Fans that want to download the new album right away can do so by heading to iTunes. Melodrama is also available to stream, and those hoping to listen to Lorde's newest singles this way can do so on Spotify. Singles to look out for on Melodrama include "Green Light," "Liability," and "Sober."
Lorde performed both "Green Light" and "Liability" for the first time live on the March 11 edition of Saturday Night Live, which was hosted by actress Scarlett Johansson. Check out Lorde's first live performance of "Green Light" below:
Melodrama is already receiving rave reviews, with USA Today even crowning it "the best pop release of 2017." Variety also gave Lorde's second album a solid review, calling Melodrama "the great weird-pop album 2017 has been waiting for."
As for making the album, Lorde spoke with Time and discussed the challenge of following up Pure Heroine. Melodrama "wasn't easy to make," Lorde said. "To have to do something else which felt just as idiosyncratic without retreading old ground was a handful. Every single drop of blood that went into this record was so considered."
Much like Lorde's prior works, Melodrama is very much personal, and gives listeners insight into the singer's feelings and experiences. "Everyone has asked me with this record, 'Did you have to reckon with yourself to be able to share those personal stories?'" Lorde told Time. "And I'm like, 'not really.' What else would you do? Make it vague? Make it not your darkest truths?"
That obviously would not be Lorde's style.
Melodrama is now available to stream and download.
Mic has ongoing coverage of Lorde. Please follow our main Lorde hub here.