Grenfell Tower: Royal family visits fire victims as death toll continues to rise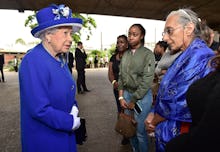 The queen and Prince William paid tribute to the victims of London's Grenfell Tower fire at a relief center early Friday.
The royal family spent about 30 minutes at the Westway Sports Center lending support to those affected by the blaze, including residents and local community members. They also met with firefighters and police officers who responded to the incident, the Guardian reported.
The queen was lauded for meeting with victims before Prime Minister Theresa May, who visited the relief center Thursday but spoke only with firefighters. May ended up visiting the victims shortly after the royal family Friday morning.
The confirmed death toll from the fire has risen to 30, according to BBC, with as many as 76 people still missing. Metropolitan Police commander Stuart Cundy told BBC that he hopes the total number of casualties will not exceed 100.
Six victims have been provisionally identified so far, but Cundy told BBC that police "may not be able to identify everybody."
Police plan to spend the Friday searching for bodies in the remains of the west London apartment building.