A Wesleyan fraternity sued the university for forcing it to accept women — and won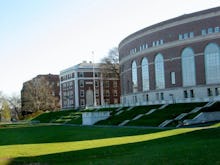 On Thursday, Wesleyan University president Michael Roth sent out a campus-wide email informing students that the fraternity suing the university for requiring it to coeducate had won its case.
According to Wesleying, a campus blog, the jury trial began earlier in June, during which Delta Kappa Epsilon argued that the university's implementation of its mandate that fraternities include women made its members victims of gender discrimination and "deceptive practices."
"Discrimination is wrong no matter what form it takes, and the university has unfairly singled us out in order to achieve their brand of 'diversity,'" former DKE president Terence Durkin told the blog in 2015, when the fraternity first filed the lawsuit.
An alumnus involved in the suit similarly called Wesleyan's call for coed fraternities "an egregious example of political correctness gone wrong."
Wesleyan announced its decision to coeducate residential fraternities and sororities in 2014, announcing that the organizations had three years to adopt these new standards.
The move posed a threat to the existence of DKE and Beta Theta Pi, whose national chapters don't recognize coeducation. DKE had offered to partner with an on-campus sorority to meet the new standard.
In the suit, DKE argued that the university "fast-tracked" its decision to deny the fraternity campus housing rights just five months later, despite its alleged attempts to come up with a plan to accommodate Wesleyan's new policy. The fraternity said in their lawsuit the university had given them less than two weeks notice to provide a full co-educational implementation plan, or lose the ability to house members for the following year.
Wesleying suggested the decision may have been, in part, a response to years' worth of reported sexual assaults that were allegedly connected to Beta and its members, as well as an incident involving a student falling out of a third-story window at the frat house.
A week before Wesleyan rolled out its new Greek life policy, university officials sent an all-campus email announcing Beta's residential house would be off limits to students for the rest of the academic year due to "a long history of incidents there."
When the board of trustees convened in 2014, nearly half of its schedule was dedicated to questions of how to manage campus Greek life. Coeducation is the solution at which they ultimately arrived.
On Thursday, Roth told students that the university's loss doesn't mean Wesleyan will go back on its commitment to making the campus' fraternities and sororities more inclusive, adding that the university will explore its "legal options."
"Wesleyan believes very strongly in the principle of coeducation," Roth wrote. "We will continue to support the successfully operating coeducational residential societies on campus, Psi Upsilon and Alpha Delta Phi, as well as the myriad other student groups that make up Wesleyan's rich campus culture."
Wesleyan did not respond to a request for comment by the time of publication.