Out of Office: How to travel the smart, fun and cost-effective way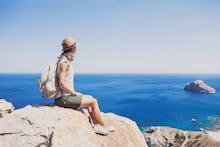 While the very purpose of vacation is to relax, unwind and refresh, it isn't always free of stressors: airport stress, financial stress, hotel stress, etc. But if you travel smart, it's possible to enjoy an (almost) stress-free vacation — and even be treated like the wealthy frequent traveler you aren't.
Did you know that you can eliminate language barriers with your phone camera or enjoy the perks of a platinum member on your first visit to a hotel? Allow us to take you from travel novice to travel pro in less than 10 minutes with these simple, life-changing tips:
For most travelers, vacation starts when they arrive at their destination. For smart travelers, vacation starts when they arrive at the airport bar. Every millisecond of PTO is precious — don't waste it.
A new crop of high-quality airport bars and gastropubs around the country offer travelers a moment of peace between the security line stress and the transatlantic flights. Mic chose these 11 standout airport bars for menu quality and diversity, local feel, excellent service and, most importantly, a calming environment. You're welcome.
If you're still figuring out when to get away this summer, you've come to the right place. Data is here to help you fit that much-needed vacation into your budget.
Travel metasearch engine Kayak analyzed summer travel dates and pricing trends to let you in on industry secrets, so you can spend more time enjoying the beach and less trying to replenish your bank account.
If you're not hacking your vacation, you're seriously missing out. Google's newest tools allow you to translate street signs, use Maps offline and can even act as a personal travel agent.
To get the most out of them, download what you need before you hit the road — and if you're traveling abroad, consider enrolling in your cell phone carrier's international plan or buying a SIM card for eligible phones. Here's how to let Google do the more tedious parts of vacation-planning for you.
Want to be treated like a platinum member on your first visit to a hotel? Think: complimentary Wi-Fi, breakfast, discounted drinks, upgraded room and more.
It's not a scam. It's not too good to be true. You can reap these rewards, too. Point-subsidized travel is very real, and particularly valuable for those with Ritz-Carlton tastes on a Red Roof budget. People who are relatively organized and fiscally responsible can do it. With a minimal time investment and willingness to alter your spending habits a bit — outlined in this beginner's guide with help from experts in the field — you'll be wheels-up on a five-star vacation faster than Four Seasons room service.
Sure, a lot of your precious vacation time is probably spent outside of your hotel room, but why not pair your epic vacation with topline accommodations? A great place to score attractive, affordable digs is Airbnb. Better yet, stay in wine country! You can stay at a family winery, a hidden German town or even in a French castle — at a reasonable rate.
If you do opt for a hotel, don't be swayed by endless reviews or marketing techniques into dropping major cash for a room. The three most booked hotels in the world are much more budget-friendly than you might think — and they're all located within the United States. Two out of these top three are understated lodgings within seven miles of each other and in close proximity to the Grand Canyon. This alone tells us something: While the world's finest hotels can dazzle and excite, nothing compares to natural beauty. Check out the cost-friendly hotels that allow you to explore this big, beautiful world.
Can't Get Enough?
Prove your Out of Office food and travel knowledge for the chance to win over $1,000 in cash prizes playing our live trivia race! Play on Monday, June 26 at 8:30 pm Eastern here.